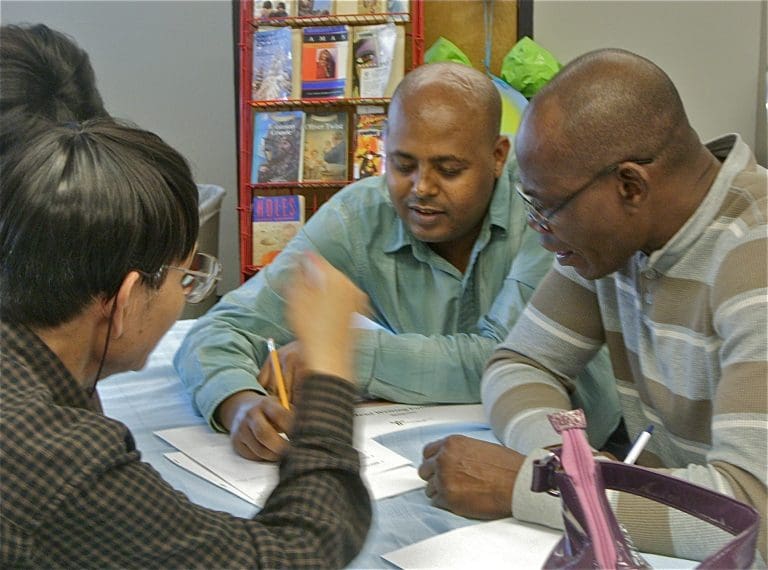 The College Readiness Academy (CRA) is a partnership that provides college preparation to New Americans and others who would like to begin college-level classes but are not yet college-ready. The Institute site is particularly for adults who are interested in healthcare careers. Many of our students are nursing assistants — or were nurses in their countries of origin — and now want to go to college to advance their medical careers in the U.S. Students who are interested in careers other than healthcare are welcome too; the class covers academic skill that are important to any college student.
These free programs practice the same reading and writing skills as expensive prep classes run by colleges. At the end of the program, most students show great improvement on the Accuplacer, the community college placement test. They need fewer reading and writing classes (in "Developmental English"), saving $100's or $1000's — and some are eligible to begin General Education classes. With the help of two full-time college navigators, students also develop a good understanding of how the college system works, how to plan their classes, how to apply for financial aid, and how to be academically successful.
Class Schedule:
Spring Semester 2017
January – May 2017. Exact dates to be set.
4 days a week: Tuesday – Wednesday – Thursday – Friday 10:00 am – 1:00 pm.
Summer Grammar Class 2017
Summer Study Skills 2017
Skills students attain in College Readiness Academy:
College-level reading skills, including critical analysis and vocabulary-building
College-level writing skills, including note taking and essay-writing
Study skills, including skimming, scanning, test-taking, vocabulary-building, process-writing, and note-taking
Computer skills, including word processing and research tools
Build knowledge of medical vocabulary and the medical field (guest speakers from many medical professions)
Grammar refresher
Introduction to Human Body Systems – on Fridays
Students who are eligible:
Demonstrate good English language skills on TABE reading test and a short written essay
Cost:
Fall & Spring Semesters – Course fee is $20 (supply fee)
Summer class – Course fee is $5 (supply fee)
Assessment and Registration:
To enroll in the course, applicants must participate in a "Information & Test Day." At these sessions, the instructor will explain how this class compares to classes at local colleges, and the applicant will take a reading, language, and/or writing assessment. Together, the instructor and applicant will decide if this class meets the applicant's academic needs. Contact our Registration Hotline at 651-647-0191 x 321 or LHagen@iimn.org to register one of the following testing days from 9:30 am – 12:30 pm:
Tuesday, December 20
Wednesday, December 28
Thursday, January 5
Monday, January 9