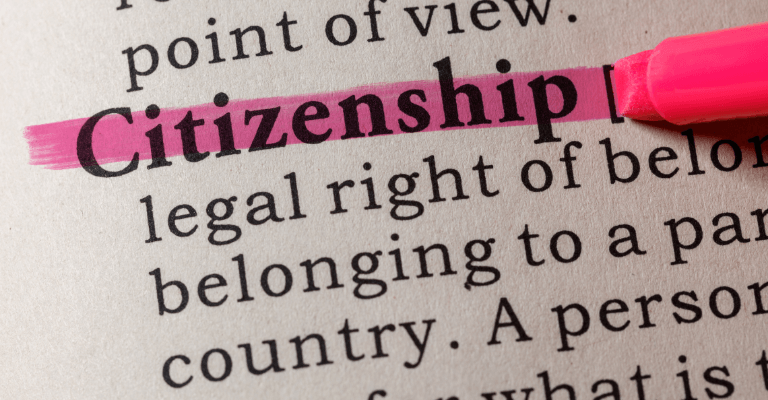 "I'm free of worrying that I will be apart from my kids," Catherine says of her new, long-awaited status as a U.S. citizen. "Kids are never 'grown' for their parents," she explains. "You always look at your kids as babies." Catherine's babies grew up in Minnesota and are now high school and college students.
"This is their home, so I make this place my home," she explains of her decision to apply for citizenship. "I know I'm definitely not going back to Africa."
Faced with the traumas of war in Liberia, Catherine and her husband sought asylum in the United States two decades ago. "After having children here and knowing the situation back home," Catherine explains, "that's when we started planning that we cannot take our kids back to our country." The lack of drinking water, food and medical care are some of the crises which make returning unfathomable, she shares.
The first time Catherine applied for citizenship, she didn't seek the International Institute of Minnesota's assistance in responding to USCIS requests for documentation, and her initial application was denied. The second time, she opted to go through the process alongside Natasha Singer, Immigration Counselor at the Institute.
"She led me all the way," Catherine reflects. "She gave me all the tools, and I followed those steps; she walked me through." The naturalization process can be confusing and stressful, especially when accompanied by work and family obligations plus the disruptions of a pandemic. Catherine works as a personal care assistant and also provides for her husband who resides in a nursing home.
"Natasha was always by my side," she says. "Even when I went to the interview, she went with me, because I was so nervous and scared. I felt so comfortable with her, like family."
Because of COVID-19, months of waiting followed. "Then, out of the blue, my phone rang," Catherine says. Natasha had barely uttered the word congratulations when Catherine cut her off. "I started shouting, yelling," she recalls. "I was so excited!" Natasha remembers that Catherine wanted to start dancing on the spot but couldn't because she was at work. After so many setbacks, Catherine had finally been assigned an oath ceremony date: Nov. 2, 2020 — the day before the election.
Did she vote? "Oh yes, I did!" Catherine exclaims. The same day she became a citizen, she cast her very first ballot. "After I went home, I went straight to the early voting site."
"I was so excited. Really deep down in my heart, I said one day I would be a citizen that would be able to vote," Catherine reflects. "It was a happy moment for me to vote for who I really like." 
Despite the excitement of participating in the elections, the biggest benefit of citizenship remains Catherine's sense of relief that she will not be separated from her children. "That worry — you cannot sleep at night, thinking that one day you will be sent back to Africa," she explains. 
Reflecting on how she felt during her naturalization ceremony, Catherine says, "That is a feeling that is just, just difficult to describe. Because you know when you are struggling for something and then you lose hope, thinking that you won't get it, then all of a sudden it just comes to you. In that moment, you feel so brand new."
"It was just like the day I entered America," Catherine adds, "feeling that freedom."