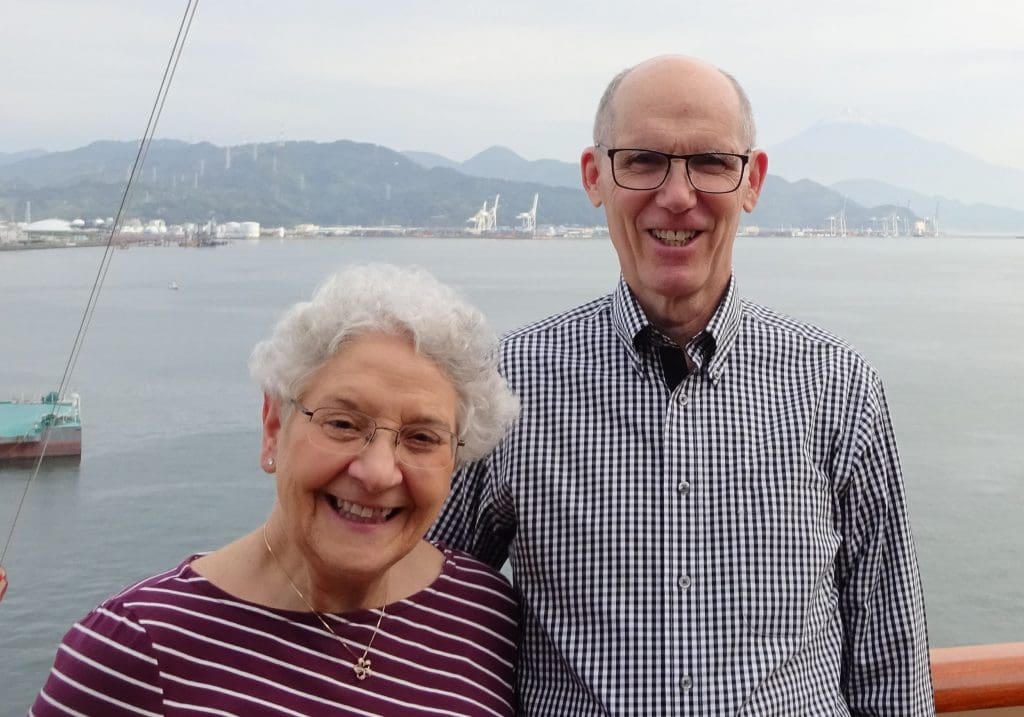 Laura and Ben Cooper had already been engaging in thoughtful philanthropy, evaluating what their values were and whether they were giving in the right places in the right proportions — then the Sept. 11 attacks happened. As the magnitude of the situation became clear, they asked themselves who was going to be hurt most from the fallout of 9/11 in the United States. Immigrants, they concluded.
Pursuing that thread led Laura and Ben to the International Institute of Minnesota. Over the years, they have financially supported multiple programs and have also donated their time to several Institute projects. In 2013, the Coopers became mentors to a Nepali refugee family expelled from Bhutan and have since become friends; this relationship has provided remarkable insights into the immigrant experience in the United States. Laura also serves on the Institute's Capital Campaign Committee and has been a volunteer assistant teacher for citizenship classes. Ben has sung with the Minnesota Chorale at naturalization ceremonies.
As former professors (Laura at the University of Minnesota Law School and Ben at Augsburg College), the Coopers clearly recognize the power of education. Through their involvement in the community, they had also learned what a difference seemingly small grants can make in the success of low-income college students. Often, a very modest financial problem can knock a student completely off track.
The Coopers' financial support allows the Institute to provide tuition and other forms of assistance for immigrant students enrolled in nursing programs. Brooke Anttila, the Institute's Medical Career Advancement Manager, told the Coopers that sometimes students doing very well in their studies encountered significant challenges that could be overcome with the infusion of some temporary economic support. Often they were juggling multiple jobs and child care. If they could take some time off work, for example, to study for an exam, they could transition to a better paying job. If they could afford a prep course to pass the NCLEX nursing test, their whole family's situation would benefit. Whether receiving a large or small scholarship from the Coopers, the gifts could make a sizable impact. "The Institute was very judicious in how they identified the students for whom the money would make a difference," Laura recalls, "and they could report to us that it did make a difference, so it was something that seemed really valuable to us."
As donors, the Coopers say the Institute has always provided ample documentation about where the money is going and how the funds directly improve the lives of program participants. They also receive letters from scholarship recipients, "so we feel like we've been really well informed and it's making a difference," Laura says. They also meet with Institute leadership and program staff annually to review the effects of their donations and the multiple positive achievements of the medical careers program.
Witnessing these success stories means a great deal to Laura and Ben. A financial adviser once counseled them, "If you're interested in philanthropy, don't wait until you're gone to get the pleasure out of using that money now." They have certainly followed through on that advice.
It has been "super rewarding to see those students moving to the next level, to enhance their skills, to enhance their family's welfare, to move on to a better job, and to contribute in even greater ways to the community," Laura reflects.
One father of four children who was struggling to support his family and pay for his academic materials wrote to the Coopers, "Because you are willing to help me, it also helped my family. My previous job driving a taxi did not provide enough for all our needs. Now I have a nursing job, and I have stopped driving a taxi."
Another student wrote, "The financial support you provided me won't go in vain. I currently work as an RN with elderly patients at a long-term care center. This assistance has helped me find direction onto a path where I will be equipped and prepared to assist hundreds of baby boomers with their nursing care in the near future."
"As part of the boomer generation, we're not ready for nursing care ourselves," Laura says, "but we can see that a lot of our contemporaries and people older than we are have needed that care, and it hasn't seemed like the non-immigrant population has satisfied that need. It is a good thing that immigrants are willing to do that work and have been very successful at it. It has been a really good match for Minnesota's needs — the desire of immigrants to improve their lives and the lives of their families by serving the community. It is a win-win all the way around."
Thank you Laura and Ben Cooper for your steadfast commitment to the Institute and its students.
---
Interested in learning more? Read a donor story from Dr. Jeffrey Mandel, another important supporter of MCA scholarships, or contact Development Director Cori Ertz (651-647-0191, ext. 366) to learn how you, too, can support this critical program.