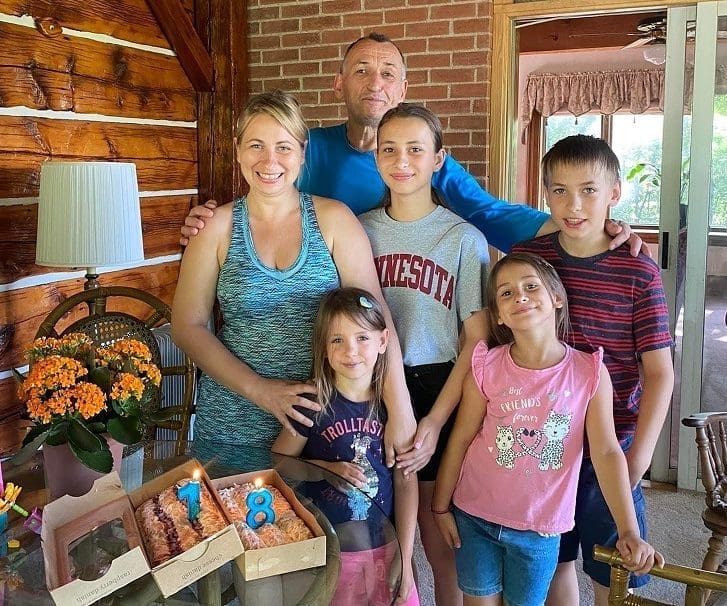 February 16, 2023 | At the first-floor offices of the International Institute of Minnesota, case workers meet with newly arrived refugees who speak at least 20 combined languages from around the world. Maryna Kyrylkova – a recent arrival herself – adds to the mix in Refugee Services, speaking to her clients in Ukrainian as she helps them apply for work authorization and other support services.
Since the war with Russia began one year ago, almost 300 Ukrainians have found safety and support at the Institute.
Maryna, one of the Institute's Ukraine Case Managers, arrived with her family last summer knowing just one person here. While pieces of her heart remain in Ukraine, she and her family have built a life here – and she's helping others do the same.
"Working here makes me stronger because I can help people who are feeling the same experiences as my family," Maryna says.
Deciding to leave
Two days into the Russian invasion of Ukraine, Maryna and her husband had seen enough. A bombing of the nearby military airport woke her family of six to sights and sounds of fires and helicopters.
Two hours north, closer to Kyiv, Maryna's aunt filmed fighting and destruction. She texted the video to Maryna with a message, "You should leave. Some kind of hell happened around us."
There was no decision to make. Keeping her children safe was all that mattered to Maryna.
Within two hours, her four children – ranging in age from 5 to 12 – filled one backpack each. Maryna's husband carried one suitcase for the entire family. They climbed into their car, prepared to carry their belongings if needed. Then they left, driving away from their home and the scenic, rural town of Pylypcha, built along the Ros' River.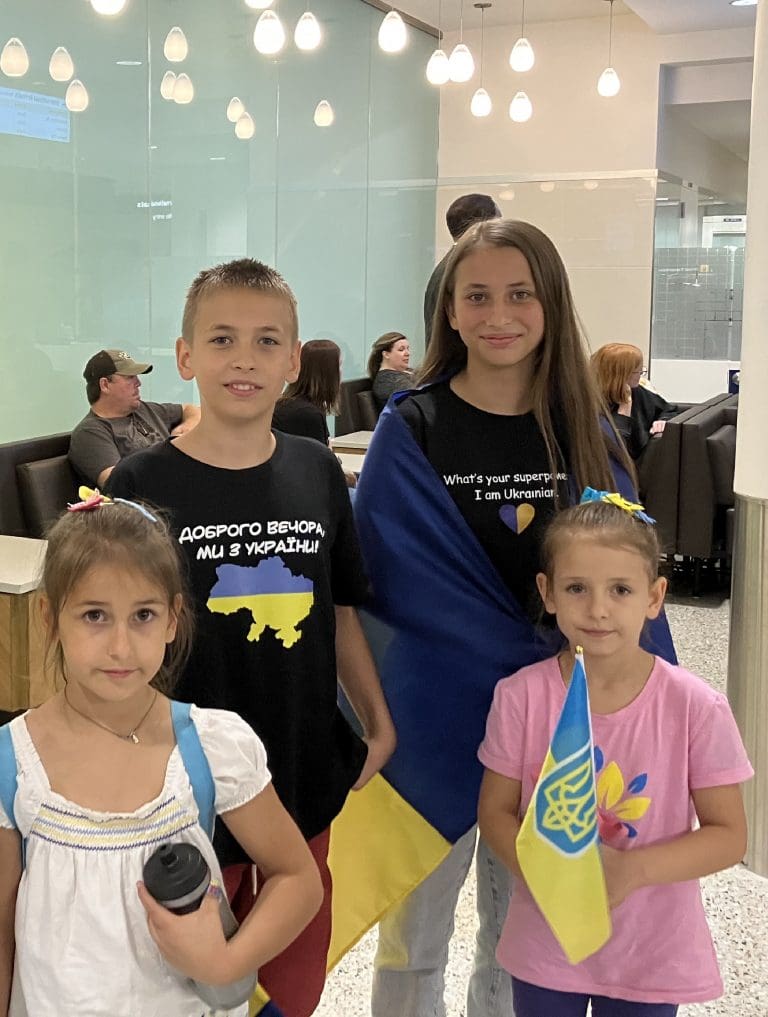 "Where were we driving? We have no idea – just to the west. Far away, far away," Maryna says. Her parents, grandparents and sister stayed behind, along with many of their friends.
Life (and war) continue
One year later, while the war continues, Maryna's family has settled into a new rhythm of life, work and school in Minnesota. The kids are thriving at school, with new friends and afterschool activities like hockey and music lessons.
"I can't believe I'm here. From all that stuff and almost a year not at home, I can't believe I can stay here, I am safe, I can work," Maryna says. "And when I remember some stuff, it's really hard."
After three months in Germany, the Kyrylkova family relocated to Minnesota thanks to an American camp counselor Maryna met in Ukraine when she was just 11 years old. They stayed in touch as pen pals, eventually lost touch, then reconnected five years ago through social media. That one-time pen pal sponsored Maryna's family of six through the Uniting for Ukraine program, welcoming them to Minnesota and preparing a new home for them in Champlin.
The program allows Ukrainians fleeing the war to stay in the United States for up to two years with the support of a sponsor.
Finding safety, supporting others
Maryna's own experiences of navigating the systems of a new country uniquely positioned her to share her knowledge and make the transition easier for others.
"It's the job of my dreams," she says about being a case manager at the Institute.
She works with Ukrainian clients for at least their first 90 days in Minnesota, helping them apply for social security, work authorization, medical benefits, to sign up for English classes, and more.
Meanwhile, Maryna stays in touch with her Ukrainian family and friends, who now struggle to buy food, find drinking water and fear for their safety. Some are fighting. She sends money home to help.
While she doesn't regret seeking safety, knowing what others are going through keeps her focused on helping from here in the United States.
"It's war and it's destroyed everything. The whole country. People have died – even kids," Maryna says through tears. "It's real people, real life. Just support Ukraine as you can."
---
Reported and written by Alisa Blackwood, Communications Manager at the International Institute of Minnesota. Alisa's work at the Institute comes after years of writing for publications and organizations such as The Associated Press, O, The Oprah Magazine, TravelandLeisure.com, Health and more. She hopes her writing about Institute clients, students and staff bring to life the stories behind the news headlines.