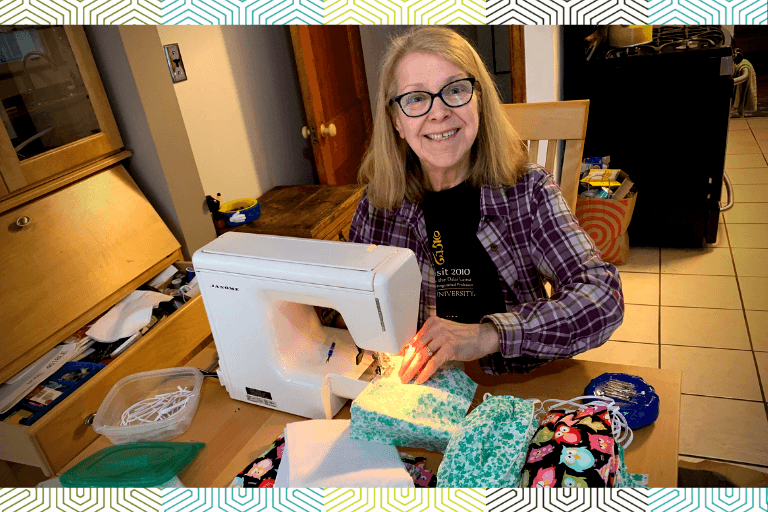 Many International Institute of Minnesota clients work on the front lines of long-term care centers, so in March when the coronavirus was gaining increased attention in Minnesota, our students began reaching out for support. They were putting their lives on the line in essential roles, yet they didn't have sufficient protective equipment. Furthermore, we expected that our employer partners were in need as well. So, as we've seen time and again from volunteers, a team of mask sewers, distributors and organizers quickly responded to the call.
One of those volunteers is Institute board member Kevin Barton who reached out to see if he and his wife Mary Barton could help supply and distribute masks. Mary, a volunteer who has worked with the Festival of Nations sewing ethnic attire, began "sewing her heart out, and the need kept getting greater and greater," says Faith Loggers-Jamnik, Lead Employment Counselor with the Nursing Assistant Training program. Loggers-Jamnik, former Volunteer Coordinator with the Institute, teamed up with Anna Benker, our current Volunteer and Outreach Coordinator, to engage a larger team. 
The Institute had formed a sewing group in the past to create weighted blankets for our mental health services, and its members eagerly raised their hands once again. "There are such great people in our community!" Loggers-Jamnik exclaims. "They see a need and really step up." Some have utilized their sewing talents, others have procured fabric and elastic, and others have helped with mask distribution and recruiting friends to the cause.
The project became an opportunity to create a cycle of giving: the Institute could support students directly while also helping its employer partners who, in turn, were protecting their employees (many of our students) and vulnerable residents.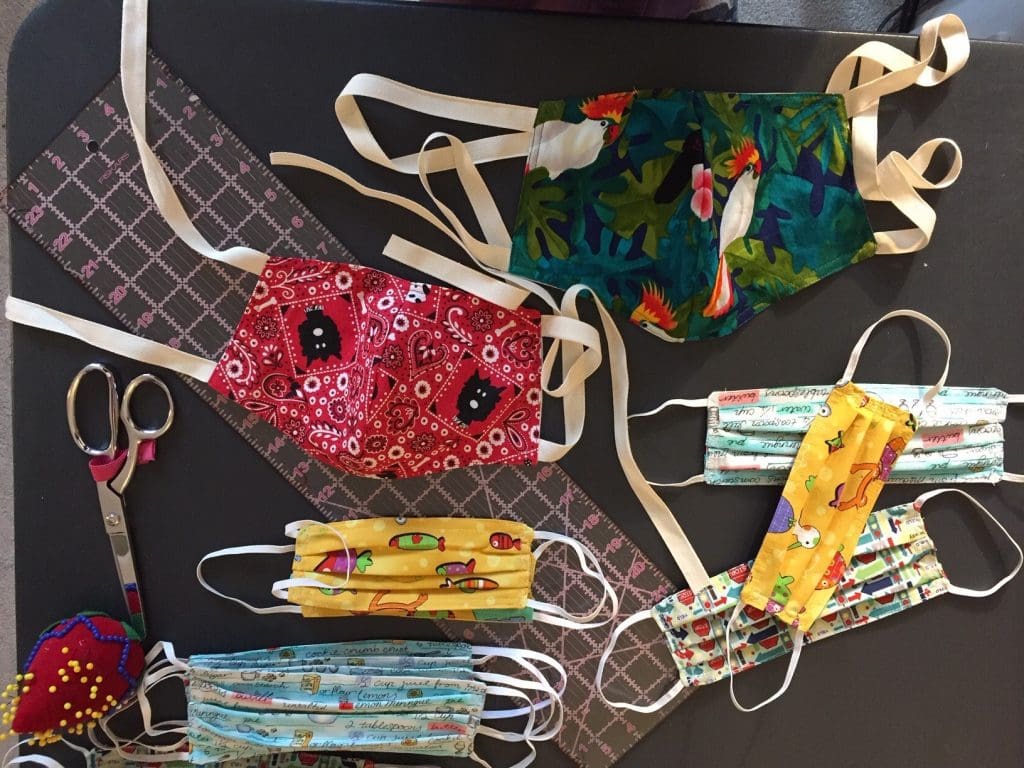 Loggers-Jamnik, who continues to help with distribution, shares that at the beginning of the crisis, nursing home and assisted living facility staff "almost wept when seeing the masks. They were in such high demand and many places were finding it difficult to find any." 
"[The face masks] just came at a great time, as we were just informed by our distributor that the surgical masks that were to be delivered this week have all been recalled. We appreciate your thoughtfulness." -Johanna Shores Community, Presbyterian Homes and Services
"I want to thank the nursing assistant department and volunteers for all of the wonderful masks. Thanks so much for thinking of us and sharing your talents!" –St. Anthony Park Home
"A HUGE thank you to you and your volunteers. It is so cool that they are thinking of our communities!" –Ebenezer Senior Living
"All donations are helpful but the masks are especially meaningful given the labor and creative, personal touch added to each one. Our elders and staff are grateful for your support!" –Episcopal Homes (also a facility where our nursing assistant students do their clinicals)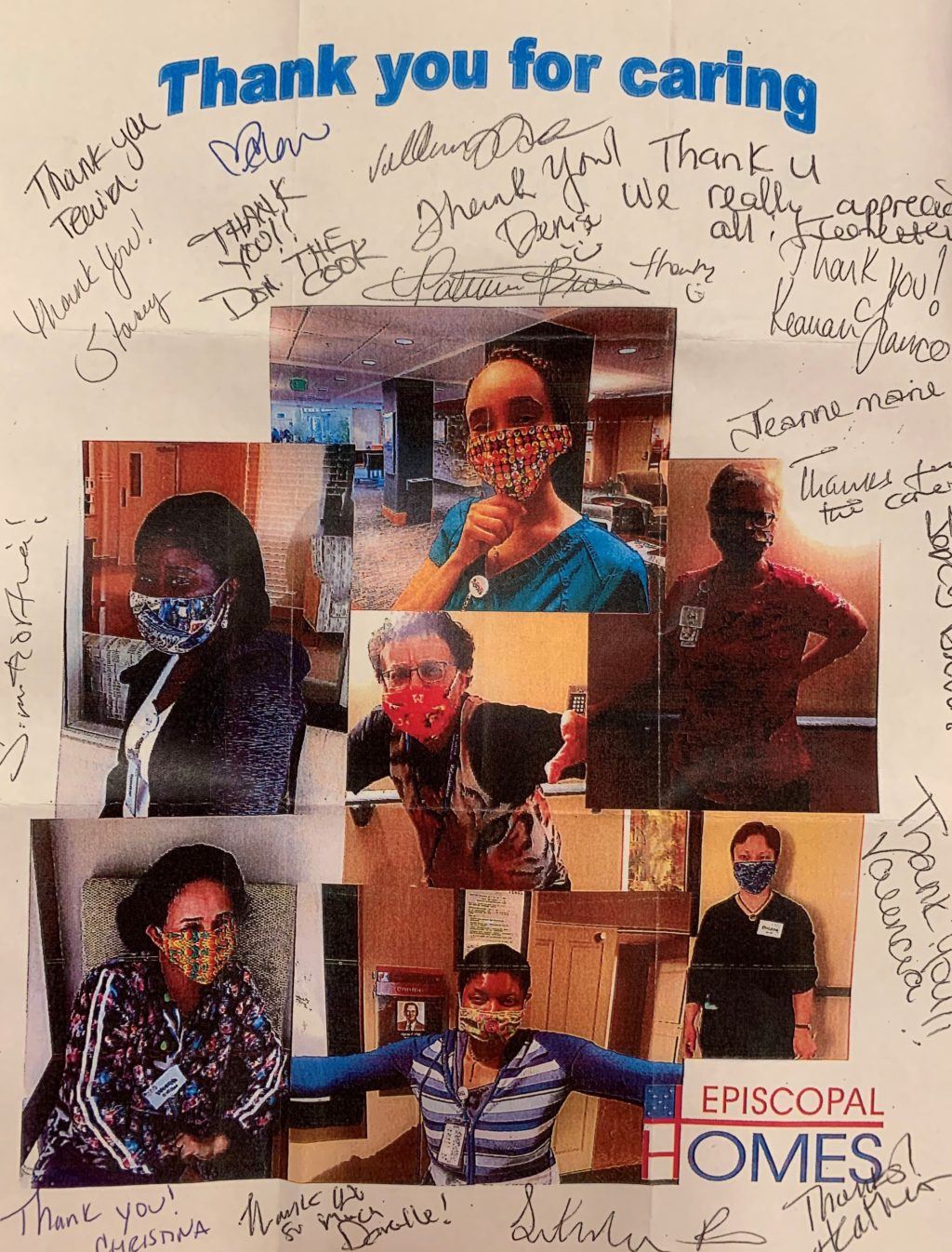 One of the group's volunteers is Karen Bovard, a member of the Twin Cities MN Days for Girls Team. "Our members have been making masks for lots of civic organizations and hospitals and cancer centers, as well as continuing to make the menstrual hygiene kits that are at the center of our mission," she shares. Bovard has volunteered in the past as an English conversation partner and with the Festival of Nations. In addition to the three hospital systems for which she has sewed, Bovard "was very glad to be able to make some for the front line workers at nursing homes and elder care facilities and to support the hardworking graduates of the Institute's nursing assistant program."
Jeri Lu Mattson first signed up to volunteer with the Institute "after the 2016 election and my fear that immigrants and refugees would be at risk." Back then, she was setting up homes for new arrivals. Now, she is collecting mask donations for the Institute from Tulip Design, a local costume shop that has shifted to making masks during the crisis. Mattson has also recently helped organize a toy drive for New American clients with children. "I am looking forward to the time when our country becomes wiser and kinder and we welcome newcomers again," she shares.
Community members like these are an indication that kindness and gratitude continue to abound in Minnesota. Thank you, volunteers, and thank you to the health care workers whose devotion continues to amaze us.
---
Want to help? You can deposit masks through our mail slot at 1694 Como Avenue, and we also have a collection bin outside the building during office hours. If you have access to elastic, your donation would also be greatly appreciated. We'd love to know who you are, so please send us a message if you plan to drop materials off or attach a note to your donation.