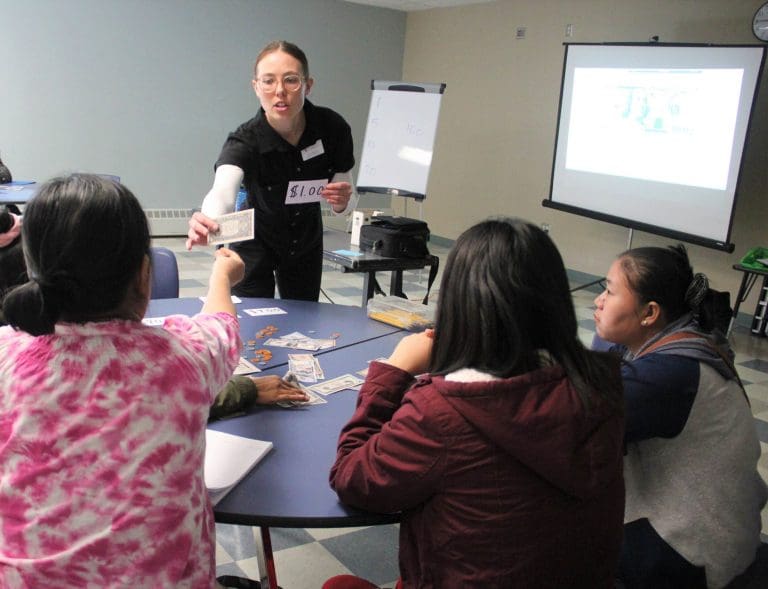 "Here, we have opportunity," Blah Hsi Oo* says, looking back on his first months in the United States, "opportunities that we would not have in Thailand." Blah Hsi Oo and his wife Nay Sar wasted no time seizing such opportunities — just two weeks after arriving in the U.S., they enrolled in our Community Orientation Workshops, a new program offered by the International Institute of Minnesota in partnership with the Minnesota Council of Churches (MCC). They were among the very first students, "the Community Orientation Workshop shining stars," says Cora Neisen, English and Life Skills Instructor.
Back in January, sessions were held in person across the Twin Cities at local YMCAs as well as the International Institute of Minnesota. Community Orientation Workshops are part of Minnesota's refugee resettlement network in which collaborating organizations provide supportive services to adults with humanitarian protection immigrant status (those with refugee, asylee, certified victim of human trafficking, special immigrant visa, Amerasian, or Cuban/Haitian entrant status). For these particular workshops, adults with such statuses who have also lived in the U.S. for less than five years are eligible to enroll.
In addition to English language instruction, these workshops emphasize critical cultural navigation lessons. The eight-week program covers a different topic each week, including:
Transportation

Housing

Community resources/navigation

Financial literacy

Health literacy

Education and family adjustment

Job readiness

Community bridges and progress toward citizenship 
Most participants are refugees or asylees, with a median age between late 20s and early 30s; many are young parents with children. Students' countries of origin span the globe — Iraq, Afghanistan, Thailand, Liberia, Ethiopia, Somalia, Rwanda and more. As for languages spoken, you'll hear Karen, Pashto, Oromo, Tigrinya, Amharic, Somali, Laotian, Russian and even some native English speakers from Cameroon, Nigeria and Jamaica. Meeting the needs of such a wide range of backgrounds requires careful planning and innovation.
Neisen's job is to focus on curriculum and instruction while Jami Flesner, Neisen's counterpart at MCC, focuses on program administration and client support. This collaboration has been very beneficial, Neisen says, resulting in a "really great program" that plays to the strengths of each organization.
Pre-COVID, the program also offered bus training in which an MCC staff person would meet the student at their home and ride with them to class; this element meant that right off the bat the workshops "served as an introduction to navigating the community," Neisen explains. Blah Hsi Oo and Nay Sar became so competent through this training that they then trained another student on navigating public transportation. When the pandemic hit Minnesota, the workshops moved online, and the couple continued to be engaged each week. 
Distance learning, as the world has learned, has many associated challenges, especially for English language learners. During in-person workshops, an onsite interpreter would be provided, which made communication much smoother. The value of face-to-face interaction, especially for those who are isolated or new to a community, also cannot be discounted.
Neisen recalls one student whose case manager reported she was in "such good spirits" after attending an in-person Community Orientation Workshop at the YMCA. She seemed to really enjoy the class and spending time with other people, the case manager shared, and her kids had a blast playing in the daycare.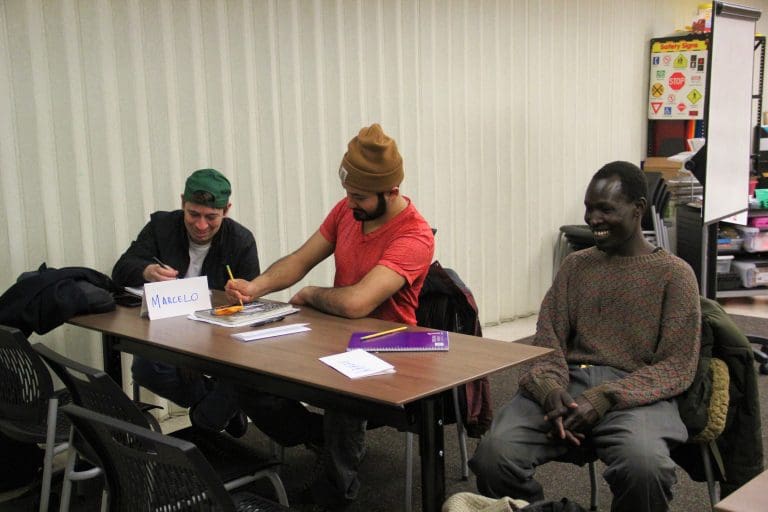 When workshops shifted online mid-session, Neisen had already met many of the students, which helped with remote teaching. "We already had a rapport built," she says. "Now, I'm working with students I haven't met and maybe never will meet."
Neisen, Flesner and volunteers are doing what they can to make up for these gaps. For Level 1 learners, Neisen films weekly videos which are then sent to the student via text message, WhatsApp or email. A weekly phone call (with an interpreter, if needed) is also set up with each student so that staff or a volunteer can go over the video content with the student, practice new English elements and develop their basic conversation skills. Level 2 learners, the more advanced English speakers, participate in a live Zoom class with Neisen each week. 
After eight weeks, students are assessed to determine if they would benefit from repeating the workshop series or if they should be referred to the Institute's English classes. "Even though I only meet people through a screen or over the phone, we try to make them feel like they are part of something bigger," Neisen shares, referring to all the ways they work to connect with and support students.
For Blah Hsi Oo and Nay Sar, it's clear they want to be part of that larger picture. Comparing Minnesota to their previous home, Blah Hsi Oo says, "We are able to travel freely; we did not have freedom of movement in Thailand. It was not easy for us to buy things or to travel." Like so many parents, he adds, "I want my children to get an education." Blah Hsi Oo and Nay Sar are both now enrolled in the Institute's English program and continue to make progress.
Another student, with whom Neisen had only worked remotely, has also shown great strides. Neisen shares that after the student completed the workshop series, she was able to independently: 1) Call her case manager 2) Introduce herself and 3) Ask for an interpreter. This might not seem remarkable on the surface, but Neisen explains that "if students are able to do that in any setting, they're set … It's such a life skill to have."
Neisen recalls that several students have secured jobs since finishing the workshops; others are studying for their GED or continuing to work on their English. Internet access can be a barrier to many students' goals, as can factors like housing instability and the processing of immigration paperwork. Having someone to reach out to during such an unpredictable time can make all the difference for a person's trajectory — especially when you're in a new place, separated from friends and family. After a workshop session finishes, Neisen and Flesner assure students that they can always get back in touch. "We try to leave the door open," Neisen says.
---
Interested in these classes or know someone who would be? Learn how to register for Community Orientation Workshops.
*Interview conducted via interpreter