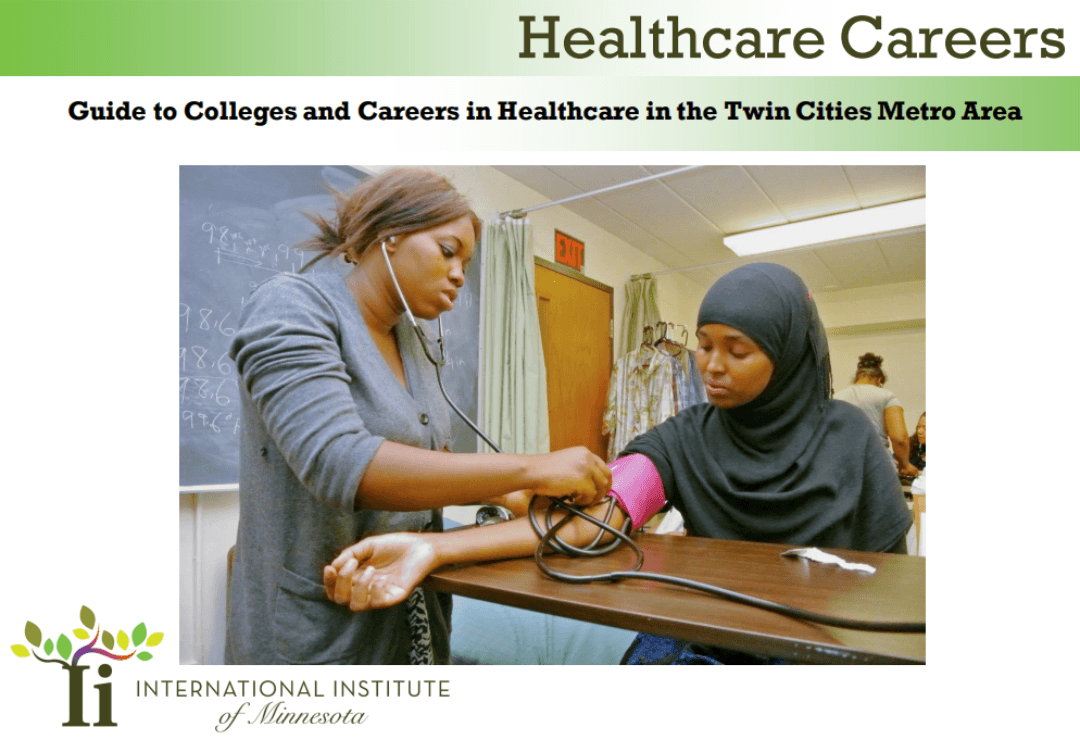 When New Americans enroll in Medical Career Advancement at the International Institute of Minnesota, we often hear that they want to become a nurse or doctor. We work hard to support clients as they pursue their dreams while expanding their knowledge of the many available healthcare career paths and opportunities.
This inspired us to create the "Healthcare Careers: Guide to Colleges and Careers in Healthcare in the Twin Cities Metro Area" in 2015. Since then, hundreds of our College Readiness and Nursing Assistant Training students and other Institute students have accessed this guide.
We're thrilled to announce an extensively updated version now available. Thank you to Merle Greene, former College Readiness Academy instructor and program manager for this thorough update.
Inside the Guide
The Institute's latest guide gives information about jobs such as community health worker, emergency medical technician, medical lab technician, occupational therapy assistant, radiologic technologist, phlebotomist, and others. Here's a glimpse into more of what you'll find in this guide:
the main duties of each occupation
various work sites
salary averages in the U.S. and Minnesota
the anticipated job growth
education required to attain the degree or credential
the advancement pathway for each career
The guide also includes a chart showing the 13 Minnesota state colleges and universities that offer various healthcare career programs, and information about:
how to enroll in a Minnesota state college
tips for taking a placement exam
how to avoid paying for ESOL or Developmental Education classes at college if someone is not college ready
The guide warns against for-profit colleges and universities while providing admissions information about the local higher learning institutions we recommend. Included are sections about common misconceptions about what college will be like and the ins and outs of our college system that New Americans often find helpful.
The updated 2023 version of our healthcare careers guide is available now. If you have questions about the guide or to update information about your institution, contact the International Institute of Minnesota at BAnttila-Escoto@iimn.org.
---
Brooke Anttila-Escoto is the program manager for the Medical Career Pathway. She oversees the Medical Career Advancement (MCA), the Internationally Trained Professionals (ITP), and the International Medical Graduates (IMG) programs. Brooke is a graduate of Macalester College and attended graduate school at the University of Minnesota and Hamline University. She has worked for the International Institute of Minnesota since 2001 and has been an instructor in the English for Work program, an instructor and program coordinator for College Readiness Academy, and program manager for Medical Career Advancement.