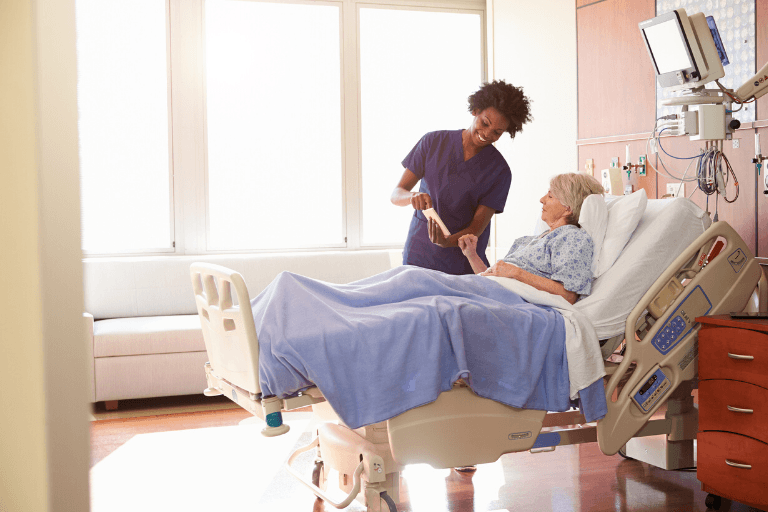 Millions have lost their jobs and health care facilities are in crisis, but amid the coronavirus pandemic, there are bright spots to celebrate, like our nursing assistant graduate Sophia. A week before starting a new job at a nursing home, she took the time to chat with us about her journey from Nigeria to St. Paul and what she hopes for the future.
After graduating in March from our eight-week nursing assistant training class, Sophia quickly learned that, when it comes to the course material, "everything actually comes into play; everything helps. There was no wasted information that was given by the Institute." As part of the class, students participate in mock job interviews with real employers, which turned out to be particularly fortuitous for Sophia. Twenty minutes after submitting a nursing assistant job application, the company reached out saying they remembered her from the practice interviews.
To prepare, Sophia did another video mock interview with Ali Slaughter, the Institute's Opportunity Navigator with Minnesota Opportunity Corps. "The prep with Ali really helped — the questions I did with her were what they asked me in the real job interview."
Slaughter notes that as the Institute strives to secure jobs for its students, the support given is more individualized than ever, with additional pandemic-related factors to work through like child care and caregiving for students' elderly family members. Communication with our employment partners, despite them being busier than ever, has also been more precise as we connect about urgent job opportunities and hiring recommendations.
Before she could be interviewed onsite, Sophia had to go through a strict health screening process to ensure she wasn't putting staff and residents at risk. During this visit, she was able to chat with some of the nursing home residents. "They said they miss their family members," Sophia shared. She mentioned one woman in particular who "you could tell really wanted to see family — her daughter used to come visit all the time."
Before she was admitted to college in Nigeria, Sophia's father had suggested she study nursing; she was interested in the path but "what stopped me was the science and math, so I did something else." She ended up earning a bachelor's degree in theater art and media studies, but after arriving in the U.S. she asked herself, "Ok, what's the next step? What are new opportunities? What do I do?"
While receiving her vaccinations in the U.S., Sophia met a nurse who suggested she check out the Institute if she wanted to do nursing. "Oh, it's free?" Sophia replied with surprise. "Ok, this is interesting. What do I have to do next?"
Once accepted into the program, Sophia remembers that "everybody was so, so cool and so nice — it was easy to blend in when I came in." Moving to Minnesota has "not been the easiest, but I met new people, especially through the Institute." She shares that she still keeps in touch with classmates; they swap pictures and encouragement in a WhatsApp group.
As a nursing assistant, Sophia will be responsible for "everyday activities of daily living, general personal care — bathing, feeding — making sure the resident is safe at all times, keeping the room tidy."
Why did this work appeal to Sophia? "Taking care of people — people that actually need it — vulnerable people, elderly people; that's the interesting part of the job for me. I'm really excited about the job." 
Reflecting on the COVID-19 pandemic, Sophia worries about all those who are sick, dying, confined, depressed and those who have lost their jobs. "I'm thankful that at least the health sector is still open, and I picked this career path."
While she had downtime during the job search process, Sophia has also been studying for the ACCUPLACER test and connecting with our College Readiness Academy to explore the steps she'll need to take to pursue a master of science in nursing (MSN). "I'm hoping to go to college someday … it might not be easy, I might have to take out loans, but I want to do a MSN program."
The Institute hopes to be alongside her as she pursues that dream, and Sophia seems to know we're in her corner: "Everybody is willing to help if you reach out."
---
Congratulations, Sophia! Learn more about the Institute's Medical Careers Pathway.