Welco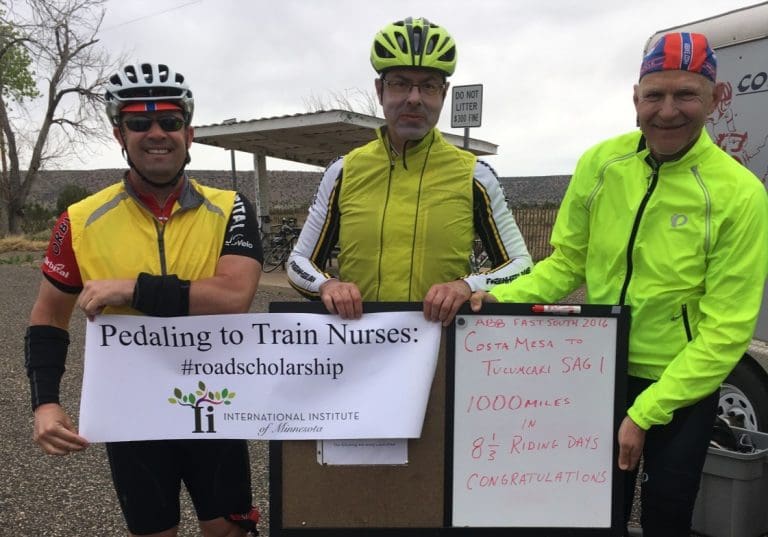 me to the first update about my bike ride across America. Between now and May 13th, from the Pacific Ocean at Costa Mesa, to the Atlantic at Savannah, Georgia, I will bike daily (except for two rest days in Albuquerque, NM and Ft Smith, AR.) I will ride with a group of 19 men from several countries—Australia, Canada, Amsterdam, Germany—and many states, including 2 from MN. The ride is called: Fast America South -and with good reason, we will bike more than 100 miles on all but 2 days. We ride with America By Bicycle (ABB) company and their guides: leader Mike and team; Karen, Pam and Judy. This is the first year that the ride does not have female participants – a woman had registered but was injured when a driver opened her car door without looking and she ran into it. Many of you know that I did the first third of this ride in 2014 with friends, Dr. Mark Seaburg and Cole Rogers and I've been interested in returning to complete the ride ever since. Our ride will be 2880 miles long.
My second goal during this trip is to raise money to provide nursing scholarships for students in the Medical Careers Pathway under the auspices of the International Institute of Minnesota. The program helps prepare students for careers as phlebotomists, Medical Assistants, LPNs and RNs. The Institute staff support the students as they complete their studies at Saint Paul College and find work at local institutions. The program has a very high graduation rate and the Institute staff closely follows each student to help them succeed in their studies and job placement. For the students, English is a often a second or third language. They work and they have family responsibilities. And school must fit into these other responsibilities. I've met several of the graduates in my work as a physician and when visiting my father at Sholom Home Nursing Home. Not only are they excellent nurses, but they are some of the most caring and competent staff I've met.
With the help of staff members at the Institute, you will be able to use a link in these emails to read biographies of several students.
A challenge grant has been established to raise money for the scholarships. 100% of the donations will go to scholarships; administrative costs are covered by the Institute. I hope that together we can raise at least $8000. I will match up to $4000 to reach our goal.
Please consider a donation of 2 cents a mile or more – about $50. Details about how to make a donation appear at the bottom of this post.
A program is in place to help select the students for the scholarships and it is overseen by Brooke Ashland, who manages the Medical Career Advancement program. Donors will be informed about the recipients selected.
So, now about the ride. We met yesterday (Saturday, 4/16) at a hotel in Costa Mesa to assemble our bikes after transportation. Mike held a review of the ride and a lengthy 2 plus hours talk about bike safety; where and how bike accidents occur and the proper method of riding safely. Even a video about how to properly cross the exit and entrance ramps on freeways when biking was carefully discussed. In the Southwest, due to the limited number of roads, bikers are allowed to use the 10 foot shoulder on the Interstate. Our bikes and equipment were inspected by Mike (I had to buy a new helmet – mine had a crack in it – despite the fact it had not been in an accident.) We had a brief introduction of the riders – names, previous rides with ABB and why each of us was riding.
Speaking of reasons for completing the 2880 mile distance, I have a special, unique reason. My neighbor is a Tazer expert and instructor on the Bloomington Police Force. If I don't finish the ride (DNF for bikers) – she has promised to make me a demonstration of how to taze an individual for her students.
Time for bed, we have a 5:15 breakfast.
To make a donation online
Visit our donation page
The suggested donation amount is $50, but feel free to donate any amount that works for you.
Complete all of the required fields (orange text with the asterisk)
Under "Direct my donation" be sure to select "Road Scholarship: Nursing"
Give yourself a high-five for empowering talented New Americans
To make a donation by mail
Please make your check payable to the International Institute of Minnesota
Write "Road Scholarship" on the memo line
Mail your check to
International Institute of Minnesota
Attn: Emily Hipps1694 Como Ave
St. Paul, MN 55108
4. Give yourself a high-five for empowering talented New Americans
To make a donation over the phone
Grab your credit card and call Emily at 651-647-0191 x 304 between 9 a.m. -5 p.m. Monday-Friday (sometimes she's away from her desk, please leave a message and she will return your call as soon as possible)
Provide Emily with your credit card and contact information
Give yourself a high-five for empowering talented New Americans