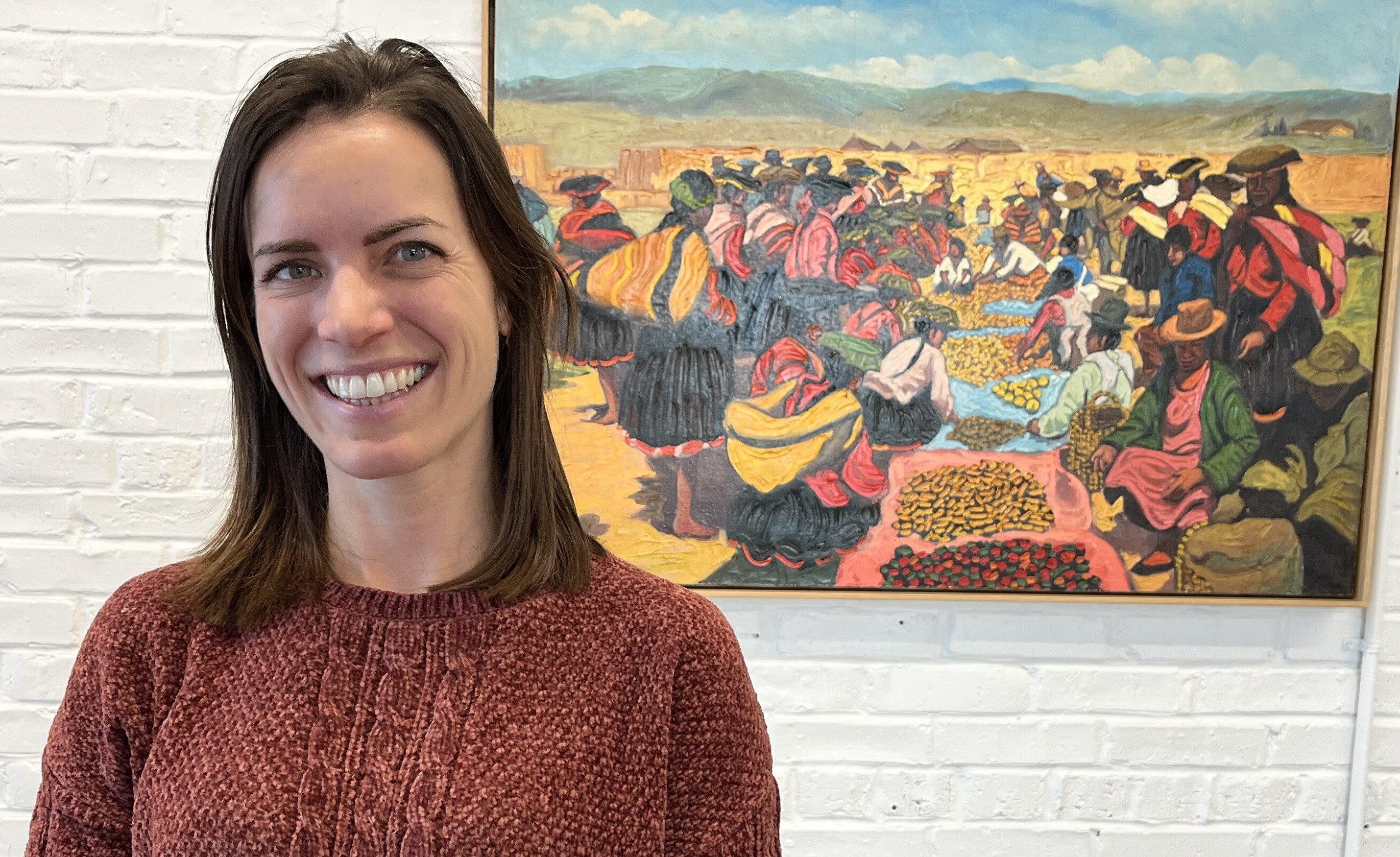 January 12, 2023 | Since becoming a flight attendant, Kelsey Reinke found the perfect balance of being at home and traveling around the world. She always craved exploring different countries and meeting people who are different from her.
"As a person who travels for work and loves to be out in the world, it's always useful to be learning about other people, cultures and places," she said.
Kelsey's connection to the International Institute of Minnesota began when the COVID pandemic brought her home to Minneapolis from New York City and, because her work had significantly decreased, she longed to find a global connection in her community.
"When my friend mentioned the Institute, that sounded perfect!
I can be around people from all over and hopefully have helpful exchanges for both of us."
Volunteering with English students at the Institute would give her the opportunity to connect with a global community of New Americans.
With previous experience teaching English as a Second Language (ESL), Kelsey felt volunteering as a Conversation Circle Lead was a natural fit. As a volunteer, she develops and holds weekly conversation circles of different levels for refugees and immigrants who are working to improve their listening and speaking skills.
After nearly a year of volunteering virtually, Kelsey finally met her students for the first-time last spring. During that first in person class, they all laughed, talking about pandemic times when they saw each other on Zoom more than they saw their own families.
"During the pandemic, things were stressful, things were weird, and so I think it bonded us. I always looked forward to that one hour of class every week," she said.
Kelsey's unique approach to volunteering provides students a space to ask questions. She focuses on giving students autonomy in what they are learning and allows them to guide conversation. Whether they choose to talk about American culture and specific American greetings, or profound topics such as politics, Kelsey creates a warm and safe learning environment where her students build trust ─ not only with her, but with one another.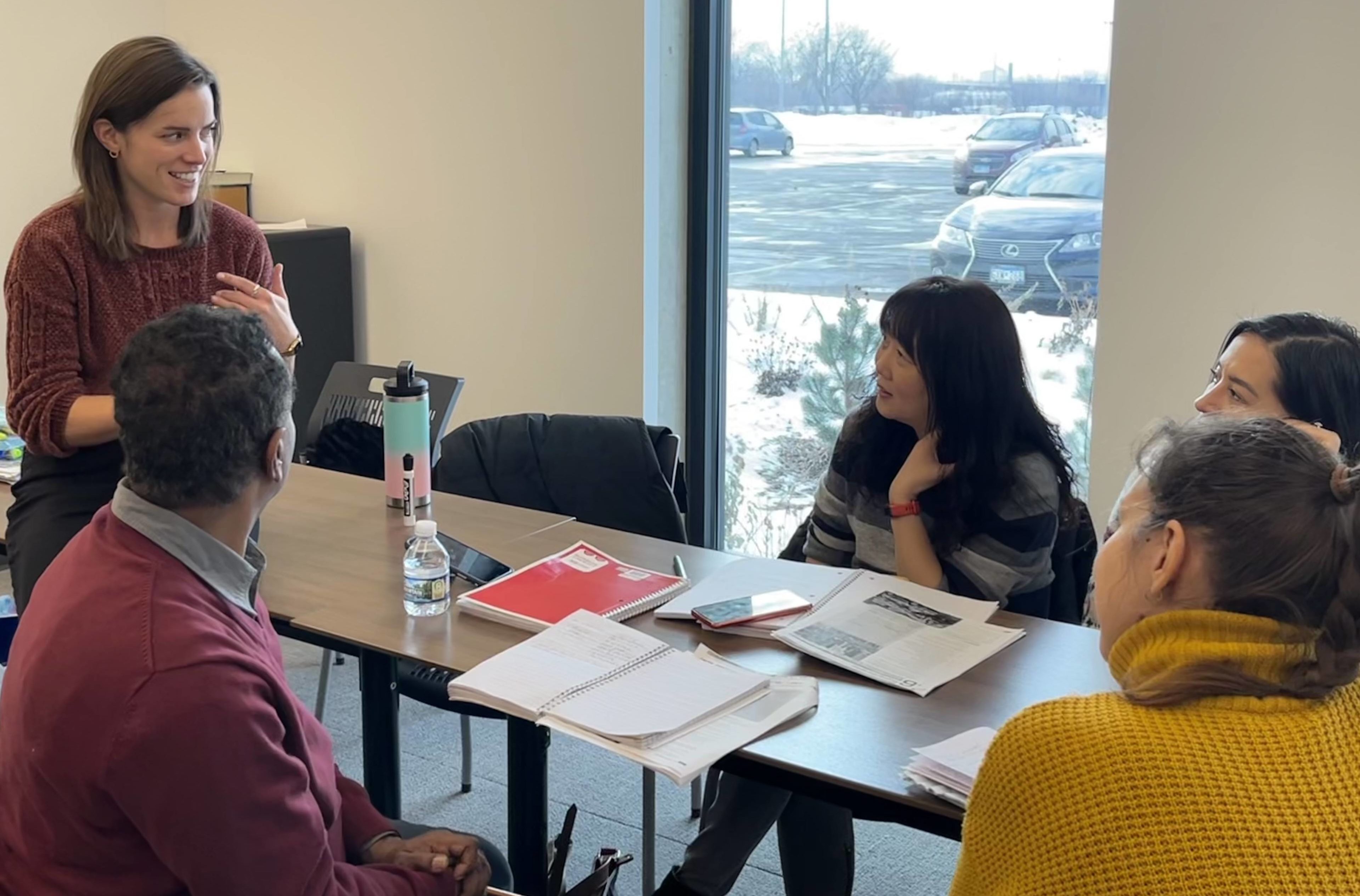 "With volunteering, as much as I'm helping other people, it's really helping me too," Kelsey said, sharing the ways that volunteering at the Institute has inspired her.
Interacting with her students weekly gives Kelsey the opportunity to learn about other cultures and places while her work as a flight attendant gives her the chance to experience it. She reflects on a time she spent 24 hours in Seoul, South Korea during a layover as a flight attendant and then told her two South Korean students about her time there. "I got to share what I ate, what I did, and it was really fun to share that with them," she said.
After almost two years of volunteering at the Institute, Kelsey can't imagine not seeing her students.
"I feel close to them," she said "I know about their lives. I know about their hopes and dreams and their histories. That is special to me, and when I'm not there, I miss it."
Learn about Volunteer Opportunities at the
International Institute of Minnesota.
Reported and written by Zinzile Sibanda, Marketing & Communications Coordinator at the International Institute of Minnesota. She moved to Minnesota from Zimbabwe in 2014 to pursue an undergraduate degree at Hamline University, where she majored in Political Science and Economics with a minor in Women's Studies. Her journey from student to immigrant has influenced her passion for working with immigrants and refugees and the importance of community building.