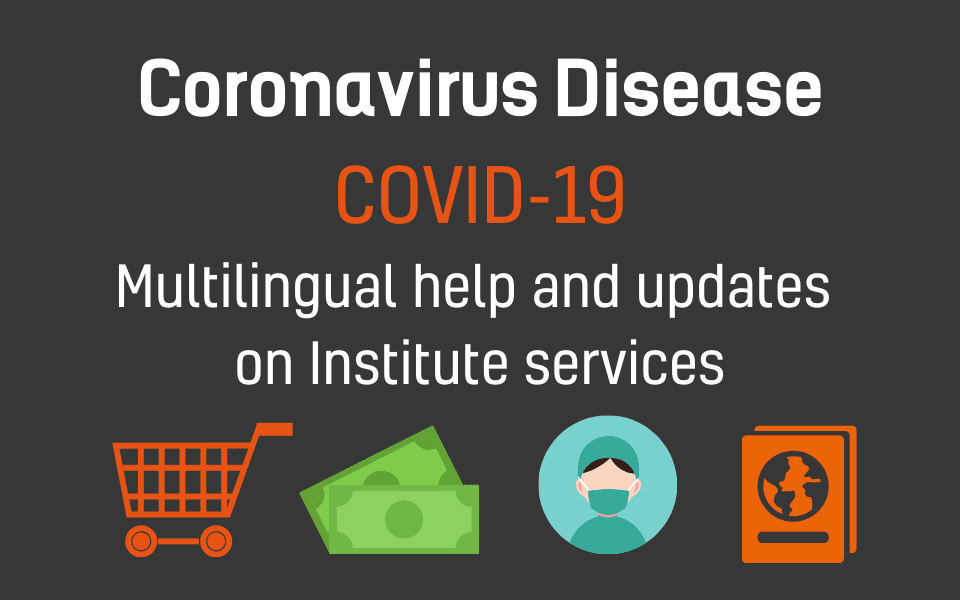 The Minnesota COVID-19 Response website provides the latest information on COVID-19 for the State of Minnesota.
COVID Care Hotline
651-318-0989 (13 different languages)
Call the Refugee and Immigrant COVID Care hotline at 651-318-0989, Monday through Friday from 9 a.m. to 5 p.m. Get answers in your own language about COVID-19 information, testing and resources. Find help in your own language with other needs like food, school, child care, employment and health care.
COVID-19 Vaccination Registration
https://vaccineconnector.mn.gov/
Fill out this form to stay updated on your eligibility for the COVID-19 vaccine and connect to vaccine opportunities in your area when they become available.
Institute Updates
The Institute building is OPEN, and our team is excited to continue serving our clients and students. Services and most classes are now in-person. There are also classes and other services which are available online. We will continue to develop innovative ways to serve our New American community during these unprecedented times. Thank you for your support!
Stay tuned for periodic additions, browse our blog, and follow us on Facebook, Instagram and Twitter to see what our clients and staff are up to.
English Classes
Immigration and Refugee Services
Job Help
College Readiness Academy
Nursing Assistant Training
Hospitality
Spanish Classes
Additional Programs
If you're unsure about the status of a program, contact us.
---
If you or someone you know needs help accessing food, paying housing bills or other essential services, dial 2-1-1 or text the letters MNCOVID to 898-211
---
Multilingual COVID-19 Information
Resources from Minnesota Department of Health:
Basic overview of COVID-19
More multilingual resources; frequently updated
COVID-19 Mental Health Resources
Mental health resources in multiple languages from the Centers for Victims of Torture
Equality Labs: COVID-19 Community Guides
Information cards in English, Hindi, Tamil, Telugu, Gujarati, Malayalam, Kannada, Punjabi, Urdu, Nepali, Burmese, Bengali, and Marathi.
Language Resource Line
The City of Saint Paul has a new phone line and email address to answer questions about the City's response to the COVID-19 coronavirus. Interpreters are available to answer questions in Hmong, Karen, Oromo, Somali, and Spanish. Learn more at stpaul.gov/coronavirus. Phone Number: 651-266-6000 Email: LanguageResources@ci.stpaul.mn.us
Videos (Multilingual)
COVID-19 videos produced by The Refugee Response

English, Pashto, Karen, Arabic, Burmese, Swahili, Russian, French, Kinyarwanda, Spanish, Nepali, Somali, Karenni, Arakanese

COVID-19 videos from Cultural Orientation Resource Exchange

Arabic, Burmese, Dari, Kinyarwanda, Russian, Swahili
Low-Cost Health Care or Health Insurance
For questions about your health insurance or to apply, you can contact the Institute's MNsure Navigator.
United We Dream: Healthcare access for Undocumented Folks in the Time of COVID19
---
Stay Healthy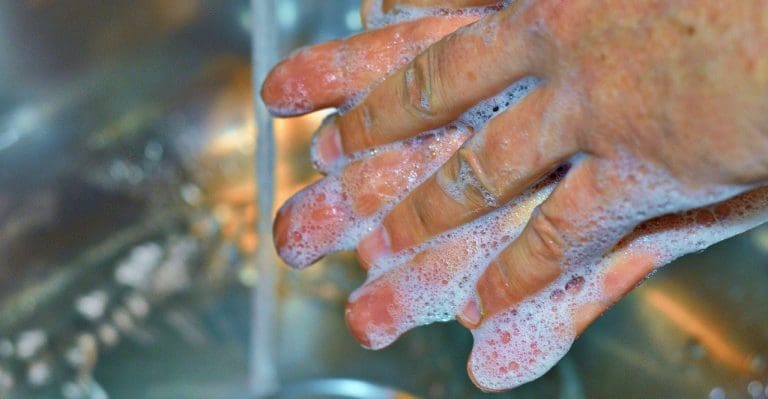 Tips to stay well
Wash your hands often with soap and water for at least 20 seconds
Wear a mask in public places and when you are with people you do not live with
Do not touch your face
Cover your cough/sneeze with a tissue or into your elbow, not your hands
Practice social distancing: stay six feet away from other people
Stay home as much as possible, especially if:

You are older than 60 years old
You are sick
You have problems with your heart, lungs or an autoimmune disease

Stay away from sick people
Clean and disinfect

things and places you touch many times a day
If you are sick
Stay home if you are coughing, sneezing or have a fever
Have your doctor's phone number ready if you get sick
Go to the doctor if you cannot breathe. Stay home if you can breathe.
There is no cure for coronavirus and no better way to keep you safe than the advice above. If someone tells you they have a "cure" or "treatment," they are trying to take your money.
If you need to be tested
---
Get Help

Food Help
Phone and Internet Help
Low Income Energy Assistance Program
The Energy Assistance Program (EAP) helps pay for home heating costs and furnace repairs for income-qualified households.
Emergency Assistance
Emergency assistance programs in Minnesota are short-term (usually a one-time payment) for people experiencing a financial hardship like an eviction or utility shut-off. If you are in this situation you should contact the county where you live to find out how to get the assistance.
Aid Networks / Resource Lists
---
Employment
Apply for Unemployment Benefits

Institute Support: Get help applying for unemployment or another job
Unemployment Insurance (UI) benefits provide a temporary partial wage replacement (some of your normal pay) to workers who become unemployed through no fault of their own (like the coronavirus). If you have become unemployed or had your hours greatly reduced, complete the application process; the state will determine whether or not you are eligible and contact you.
Government websites are closed on Saturdays and Sundays; apply during weekdays, Monday-Friday from 6 a.m. to 8 p.m.
Unemployment claims last for up to 26 weeks; due to the coronavirus crisis, it may last longer.
People who quit (depending on the cause) can apply for unemployment.
People who are fired (depending on the cause) can apply for unemployment.
It will take about 2-3 weeks or longer for unemployment claims to be processed. The government is working on processing these claims sooner due to the pandemic, but the large influx will slow down claims.
Information on payment process
If you are denied, you can reapply and appeal.

April 2020 Update: Pandemic Unemployment Assistance (PUA) — Individuals covered under PUA include the self-employed (e.g. independent contractors, gig economy workers, and workers for certain religious entities), those seeking part-time employment, individuals lacking sufficient work history, and those who otherwise do not qualify for regular unemployment compensation or extended benefits.
Worker Rights and Protections
Minnesota Department of Labor and Industry worker rights information in Hmong, Somali or Spanish.
---
Immigration Benefits Interviews
On June 4, 2020, certain USCIS field offices and asylum offices resumed non-emergency face-to-face services to the public. Certain application support centers (ASCs) resumed services on July 13, 2020. USCIS has enacted precautions to prevent the spread of COVID-19 in reopened facilities.
The Institute will continue to provide updates as we receive them. Additionally, updates should be provided through the USCIS website.
To speak with Institute staff about an immigration appointment, call 651-647-0191, ext. 300
Legal Help
For help with a legal issue, please call the Volunteer Lawyers Network (VLN) at 612-752-6677 to request a phone consultation with a lawyer.
Taxes and Loans
New Tax Day: The federal income tax filing due date was extended from April 15, 2020, to July 15, 2020. The Minnesota Department of Revenue is also providing additional time until July 15, 2020, for taxpayers to file and pay 2019 Minnesota Individual Income Tax without any penalty and interest.
The Minnesota Department of Employment and Economic Development (DEED) is creating an emergency loan program to help Minnesota small business owners who need immediate assistance to meet their families' basic needs during COVID-19 closures.
To provide relief to student loan borrowers during the COVID-19 national emergency, federal student loan borrowers are automatically being placed in an administrative forbearance, which allows you to temporarily stop making your monthly loan payment. This suspension of payments will last until Sept. 30, 2020, but you can still make payments if you choose.
Relief Checks (Economic Impact Payments)
You don't need to do anything. As long as you filed taxes for 2018 and/or 2019, the federal government likely has the information it needs to send you your money. If you haven't filed taxes recently, you'll need to submit a simple tax return to get your check. (More on who's eligible here.)
Do not give anyone your personal information to "sign-up" for your relief check. There is nothing to sign up for. Anyone calling to ask for your personal information, like your Social Security number, PayPal account, or bank information is a scammer, plain and simple. Also be on the lookout for email phishing scams, where scammers pretend to be from the government and ask for your information as part of the "sign-up" process for the checks.
To set up direct deposit of your check, communicate only with the IRS at irs.gov/coronavirus. And you only need to do this if you didn't give the IRS your bank information on your 2018 or 2019 return. In the coming weeks, the IRS will be setting up an online form available through irs.gov/coronavirus. But nowhere else, and never in response to an email, text, or call.
No one has early access to this money. Anyone that claims to is a scammer. The timeline for this process is not exact, but it looks like funds will start going out in the next few weeks. Scammers are using the lack of detail to try to trick people into giving their personal information and money.
To get official updates and more information, visit the IRS's page on economic impact payments. And if you come across a scammer trying to take your check, we want to hear about it. Report it at ftc.gov/complaint.
Information via consumer.ftc.gov
If you've never filed income taxes, enter payment info here
Check Status (When will I get my payment?)
Más Recursos en Español
---
Still have questions? Contact us.