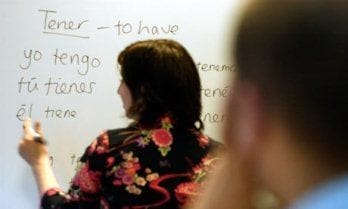 The Spanish language program offers six levels of language learning for adults wishing to learn, improve, and practice their Spanish language skills. Four terms are offered per year (Fall, Winter, Spring, and Summer Intensive) and inter-session workshops. The courses are student-centered, interactive, and taught in an intimate, casual, and professional learning atmosphere with an average of 12 students per class. Teachers are trained in the Communicative Language Teaching methodology and use a variety of teaching strategies and activities to encourage student participation and engagement. For more information about class levels, read the Class Level Descriptions.
Class Sessions
Fall 2017 – September 12 – November 16
Fall Classes are full and no longer open for registration. Please join us for the Winter Session in January 2018!
Classes meet once a week on Tuesday, Wednesday, or Thursday evenings; 6:30 – 8:30p.m.
Cost: new students requiring testing: $225, returning and beginning students: $200
Winter 2018: January 9 – March 15
Class Cost:
$200 per semester/session (20 classroom hours) – payment is required to reserve your place in class.
$80 workshops (8 classroom hours)
$25 one-time, new student registration/testing
$25 textbook – available at front desk. One book covers 3 levels
Payment may be made in cash, checks made out to the International Institute of Minnesota, or by credit card at the front desk or over the phone
Class Schedule:
Class schedule varies depending on student interest and teacher availability.
Winter schedule:
*All classes meet from 6:30 – 8:30pm
Beginning 1 – Tuesday
Beginning 2 – Wednesday
Beginning 3 – Wednesday
Intermediate 1 – Tuesday
Due to teacher availability and student interest, we will not be having an Intermediate 2 or Advanced Spanish class.
Additional Information:
Classes meet once per week for 10 weeks (20 hours) during academic school year
Summer Intensive classes meet 2 evenings a week for 5 weeks (20 hours)
Grammar Focus Workshops meet 2 evenings a week for 2 weeks (8 hours); no assessment necessary – open to mixed levels
Students must be 18+ years old for Fall, Winter, & Spring Sessions; 16+ for Summer Intensive
New students with previous Spanish language experience must take assessment/placement test to determine their correct level
Assessments offered evenings prior to class start dates – no appointment necessary
Classes are offered depending upon enrollment, all efforts are made to accommodate personal schedules
Refund policy: 50% of the class fee if notified 5 days after class start date; 0% thereafter
All instructors are experienced and are native speakers or have earned advanced degrees in Spanish with an emphasis in Education, Latin American Studies, or relevant areas of study
Students are not letter graded; classes are pass/fail
Certificates of Completion provided at final class; CEUs from Minnesota Department of Education also provided upon request
All classes and workshops are held on site:

1694 Como Ave.
St. Paul, MN 55108

Free parking
Each level incorporates cultural lectures and discussion, current events, art, music, and practices speaking, listening, reading, writing, and grammar
For more information about class levels, read the Class Level Descriptions
If you would like further information or to enroll in class, please contact Stacy Dietrich at 651-647-0191 ext. 340 or sdietrich@iimn.org. Or, to begin the registration process, complete the form below: