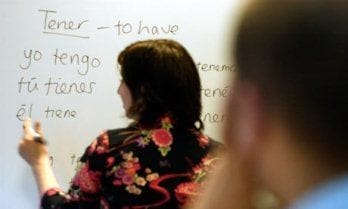 IIM offers five levels of Spanish instruction for adults wishing to learn, improve, and practice their Spanish language skills.  The courses are student-centered, interactive, and taught in an intimate, casual, and professional learning environment with an average of 12 students per class. Teachers are trained in the Communicative Language Teaching methodology and use a variety of strategies and activities to encourage student participation and learning. For more information about class levels, read the Class Level Descriptions.
Class Sessions:
Winter 2020: January 14 – March 18
New Student Registration: Tuesday and Wednesday, January 7 & 8; 6:30 p.m. – no appointment necessary
Classes meet once a week on either Tuesday or Wednesday evenings; 6:30 – 8:30 p.m. (20 hours per session)
Cost: new students requiring testing: $225, returning and beginning students: $200
Spring 2020: April 14 – June 17
Class Cost:
$200 per session (20 classroom hours) – payment is required to reserve your place in class
$25 one-time, new student testing fee
$25 textbook – Beginning 1, 2, and 3 have a $25 textbook available at the front desk. Beginning 2 & 3 also have an $8 reader available at the front desk. There is no textbook for Intermediate classes.
Class Schedule:
Winter 2020:
Beginning 1: Tuesday
Beginning 2: Tuesday
Beginning 3: Wednesday
Intermediate 1: Tuesday
Intermediate 2: Wednesday
Additional Information:
Classes are offered depending upon enrollment
All instructors are experienced and/or have earned advanced degrees in Spanish with an emphasis in Education, Latin American Studies, or relevant areas of study
Students must be 18+ years old for Fall, Winter, & Spring Sessions; 16+ for Summer Intensive
Refund policy: 50% of the class fee if notified 5 days after class start date; 0% thereafter
Certificates of Completion provided at final class; CEUs from Minnesota Department of Education also provided upon request
All classes are held on site with ample free parking:

1694 Como Ave.
St. Paul, MN 55108
For more information or to enroll in class, contact Kristin Nelson at 651-647-0191 ext. 300 (please leave a message; she will return your call). Or, to begin the registration process, complete the form below: