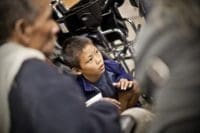 In refugee camps, health care access is often limited. In order to ensure that refugees are healthy enough to become fully contributing members of our community, the Institute has developed an array of medical services.
NAHI is a program at the International Institute of Minnesota that helps persons and families with mild medical needs to become self-sufficient.
OCP is a women's health workshop series that addresses the gaps in health care services for women who have experienced female genital cutting (FGC).
Mental Health Services
An on-site therapist provides mental health services including stress management, therapy, and counseling. Because mental health issues are stigmatized in many cultures, having an on-site therapist increases the likelihood that students and clients will access needed mental health services.
Extended Case Management
Refugees arriving with severe medical conditions are enrolled into our Extended Case Management Program, which allows clients to access case management services for up to one year.