The Institute and Saint Paul College are working together to improve educational attainment for New Americans who wish to advance their healthcare careers. To achieve this goal, Institute support instructors offer supplementary classes – free of charge – for college students preparing for healthcare careers.
Biology Study Sessions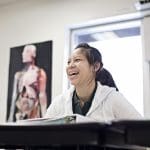 This support program provides students with extra face-to-face time as they tackle the anatomy and physiology of major organ systems. The support instructor works with students during drop-in sessions to clarify material covered by their primary instructors and the textbook. Study sessions are open to all BIOL 1730 students. BIOL 1730 is required for Practical Nursing, Phlebotomy, Medical Laboratory Technician, Respiratory Therapist, and Pharmacy Technician programs.
Get Ready for the TEAS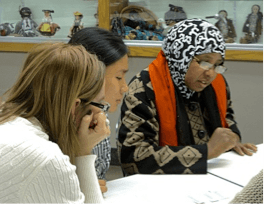 For students who want to apply to a nursing program at Minnesota State community and technical colleges, the TEAS (Test of English Academic Skills) is an admissions requirement. Get Ready for the TEAS is a 10-hour series of workshops (2 hours/week for 5 weeks) for students who have completed all or most their nursing prerequisites and intend to take the TEAS in spring 2020 for admission to a program in the fall 2020. It provides (1) a review of basic content for every component (reading, math, science, and English) along with some practice activities/questions, and (2) tips on how to prepare and study efficiently.