The Institute and Saint Paul College are working together to improve educational attainment for New Americans who wish to advance their healthcare careers. To achieve this goal, Institute support instructors offer supplementary classes for college students taking ENGL 1711 – Composition 1, BIOL 1730 – Human Body Systems, and TEAS Preparation.
BIOL 1730 – Human Body Systems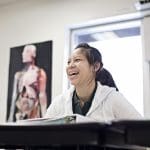 This support program provides students with extra face-to-face time as they tackle the key concepts of human body systems, including cell and tissue structure, and the anatomy and physiology of major organ systems. The support instructor works with students in small groups to review and clarify material covered by their primary instructors and textbook. Support classes are open to all BIOL 1730 students. BIOL 1730 is required for Practical Nursing, Medical Laboratory Technician, Respiratory Therapist, and Pharmacy Technician programs.
Biology support program manager: Rachel Saxton, RSaxton@iimn.org
TEAS Preparation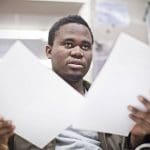 The TEAS Preparation program helps prospective nursing students to prepare for the Test of Essential Academic Skills (TEAS). This exam is required for all applicants to the nursing program at Saint Paul College – and to nursing programs many other community colleges, as well.  The TEAS score is a very important criterion for acceptance. This class reviews all topic areas: mathematics, science, reading, and English language.
Institute Instructor: Roberta Ebbers, REbbers@iimn.org