Free Nursing Assistant Training for New Americans
The International Institute of Minnesota provides high-quality and professional CNA training to new Americans who are seeking nursing job training. The Nursing Assistant Training program will give you the preparation and tools to start your career as a CNA. We are proud to be part of the solution to the caregiver crisis in Minnesota by filling critical labor gaps.

International Institute of Minnesota's CNA Training Program
What to Expect from the CNA Training Program
7 and 10-weeks of hybrid CNA training courses
In-person clinicals at a local nursing home facility in St. Paul
Thorough and professional CNA training course
Job-search assistance from our dedicated employment specialists
Countless job opportunities post-graduation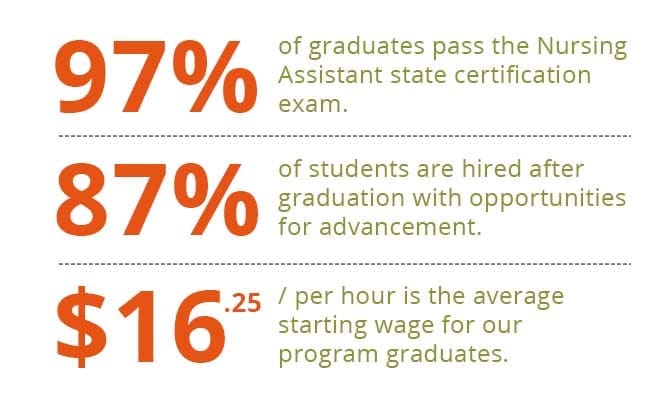 Program Eligibility
The health and well-being of our staff, members, and their future patients is our number one priority. For this reason, all CNA Training applicants must have had the COVID vaccine.
To qualify for the CNA Training program, applicants must:
Provide proof of permission to work in the US (refugee, permanent resident, naturalized U.S. citizen, or work authorization)
Complete the Reading Assessment with a high intermediate level
Be in good physical condition
Provide proof of vaccination
Applicants must provide their own computer and internet access to participate in online courses
Applicants must be able to attend in-person clinicals
Get started by joining us for a free information session!
How to Apply
Receive instructions by email to complete the online English Reading Assessment
Receive assessment scores to determine eligibility for the CNA Training program
If eligible: submit the application provided to enroll in the CNA Training program!
Program Cost
Nursing Assistant Training is free; there is no tuition
$100 for the state Nursing Assistant Certification test
Students are responsible for providing their own uniforms and transportation to and from clinicals
Register for an Information Session