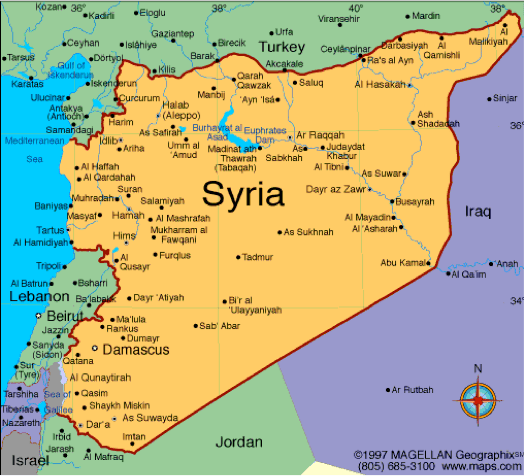 Country Profile
Syria is a country that is located directly to the west of Iraq with a population of about 23 million people. Syria is much like Iraq in dealing with political violence, civil war, human rights and suffering. The current President is Bashar al-Assad and the Prime Minster is Wael Nader al-Halqi; however, due to the political structure the president has more control on what happens in the country. Currently, Sryia is facing one of the largest refugee's crisis with millions of families trying to flee to other countries. This is the result of violence and the collapsed infrastructure within Syria.
The People
Syria is a mix of Arabs and Aramean who migrated from other parts of the Middle East.
Language
The official language is Arabic. Arabic-speakers make up about 90% of the population while the other 10% are Kurdish. Kurdish is mainly spoken in northeastern regions.
Religion
90% of the population in Syria is Islamic while the other 10% is Christian. Islam is the most common religion that can be found in the Middle East.
Arrival in U.S.
Within the past decade the United States have been seeing more and more Syrian refugees. This could be dues to many reasons within the country and wanting to flee their homeland.
Minnesota Population
There are approximately 3,000 Syrian refugees living in Minnesota. The majority of them have arrived in the past decade.