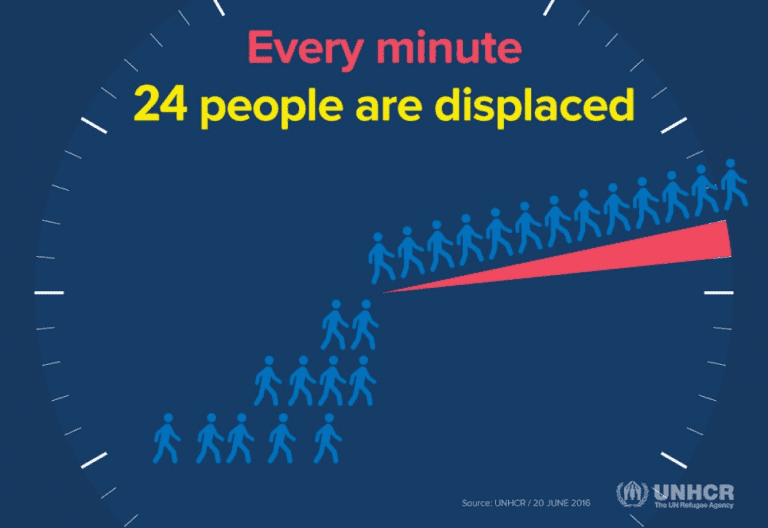 Worldwide violence and persecution have reached record levels. Every minute, 24 people are forced from their homes. Today, there are more than 21 million refugees awaiting the opportunity to begin a new life.
One-third of these refugees are in what the United Nations calls "protracted refugee situations," meaning that they have been living in camps of at least 25,000 people of the same nationality  for more than five years. The majority of these refugees have been waiting in camps for 20-29 years, but many groups have waited more than thirty years. The average stay in a camp for a refugee arriving in the U.S. is 17 years.
In 2015, the top five refugee-producing countries were Syria (4.9 million refugees), Afghanistan (2.7 million refugees), Somalia (1.1 million refugees), South Sudan (0.8 million refugees), and Sudan (0.6 million refugees). For more information, you can read the UN's full report, Global Trends: Forced Displacement in 2015.
In the words of United Nations Secretary General Ban Ki Moon, "We are facing the biggest refugee and displacement crisis of our time. Above all, this is not just a crisis of numbers; it is also a crisis of solidarity."
Every day, the staff, volunteers, and supporters of the Institute work together to provide a strong start to a new life for the refugees we resettle. Together, we are changing lives and strengthening our community. You can join us by
Volunteering

your time and talents

Donating items

Donating funds

Contacting your elected representative to show your support for refugee resettlement