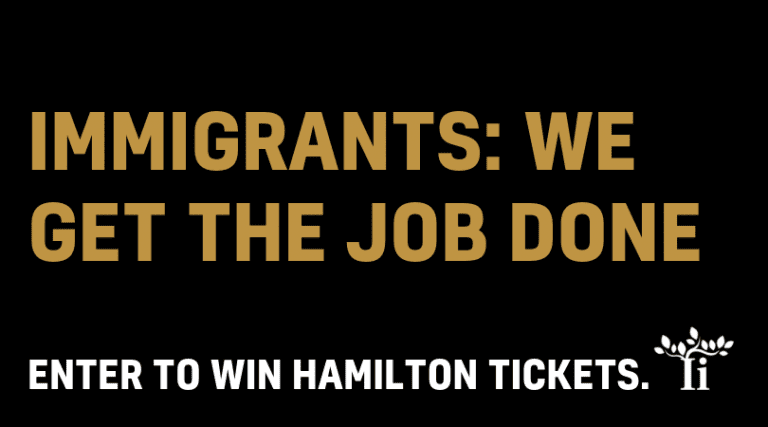 A $20 raffle ticket buys you a 1:250 chance of winning a pair of Hamilton tickets for September 22 at 8PM at the Orpheum Theatre!
100% of the price of your ticket will support immigrants in Minnesota, through the International Institute of MN.

The International Institute is a leader in serving immigrants and refugees in Minnesota: providing immigration assistance, career development, case management, and English classes. Last year, we served 4000 people from 98 countries.
With this raffle, we're hoping to raise $5000 for immigrants in Minnesota!
THE DETAILS:
• Raffle tickets are $20. CASH OR CHECK ONLY.
• The Prize is a pair of Hamilton Tickets for 9/22 at 8 pm. They are first row balcony tickets (SEATS).
• We will only sell 250 tickets, limit two per customer (per day).
• All proceeds from this raffle – every single dollar – will go to the International Institute of Minnesota: helping immigrants and refugees from their first day in the U.S. to the day they thrive.
• You must be 18 years old to purchase a ticket or win.
• The winner will be selected on Thursday 9/20 at 8 pm at BlackStack Brewing in St. Paul.
• The winner does not need to be present to win.
WHEN:
You can buy tickets at BlackStack Brewing (not from the bartenders—find us at our own table) during these times:*
Saturday 9/15: 12-4
Sunday 9/16: 2-6
Tuesday 9/18: 5-8
Thursday 9/20: 5-8
You can also buy tickets at the International Institute of Minnesota during these times:*
Wednesday 9/19: 10-4
Thursday 9/20: 10-3
We will conduct the raffle at 8PM on Thursday 9/20.
*Obviously, when we sell out of tickets we sell out of tickets.
THE STORY BEHIND THESE TICKETS:
"I had the opportunity to purchase an additional set of tickets to Hamilton the Musical before they went on sale to the general public…I have a deep love for theater and the ability it has to convey empathy and humanity…the odd situation of having extra tickets that so many people were interested in made me think that they must be meant for something special…
"On my drive home from the theater as I was reflecting on the show…I was reminded of the Women United event I attended on International Women's Day this year at the International Institute of Minnesota. I was deeply impressed with the work the Institute does for refugees and immigrants. And I knew where the tickets needed to go."
-Ticket Donor