We're Here to Help
Monday – Friday, 8:45 am – 5:00 pm
1694 Como Avenue
Saint Paul, MN 55108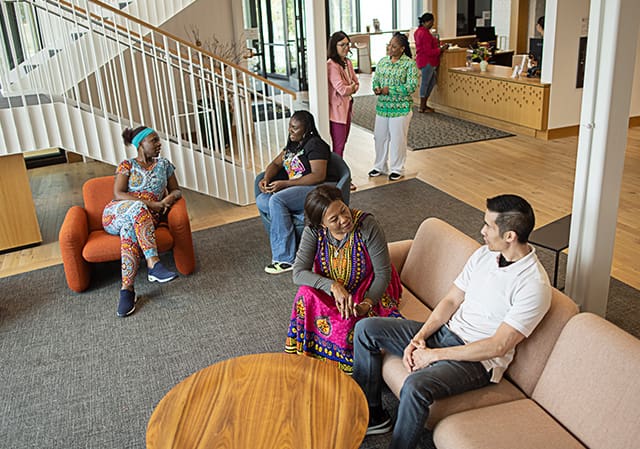 Immigration Question?
Call to make an immigration appointment: (651)  377-8642.
We do not take walk-ins for immigration questions. Due to a high volume of calls, please leave only one voicemail message with your name, phone number and the reason for your call. Our team will get back to you as soon as possible.
Class or Program Question?
Please click here with questions about classes or programs.
Frequently Asked Questions
Yes. We have access to interpreters and staff who speak different languages. You are also welcome to bring your own interpreter.
Classes at the International Institute of Minnesota are for adults born outside of the United States. You must currently live in Minnesota.
Our classes and job trainings are free to students, thank to generous monetary support from our community. We offer low-cost immigration services. If you're applying for citizenship, we'll help determine if you're eligible to apply for a fee waiver.
Please come to our office for an intake. We will talk to you about your goals. Then, we will suggest classes or other resources to help.
Yes, we are close to several bus stops. Use the Metro Transit Trip Planner to map your way to 1694 Como Avenue, St. Paul, MN 55108.
The closest bus stops are Stop #870 or Stop #929 on Como Ave. Other nearby bus stops are on Snelling Ave. and include Stop Numbers 18523, 931, 866 or 56119. From these bus stops, you will have a 5–10 minute walk to the International Institute of Minnesota.
Yes, we have plenty of accessible, free parking.
We offer services and classes for people of all immigration statuses who live in Minnesota.
You must currently live in Minnesota for us to help you.
Yes, refugees can take classes at the Institute as soon as they arrive in Minnesota, even if they were not resettled by the Institute.