Join Our Team
At the International Institute of Minnesota, you'll do more than start a new job. You'll become part of a results-driven team that cares deeply about our mission and our clients. We value collaboration, professional growth and relationships as we help each other and our clients to succeed.
View current employment opportunities below.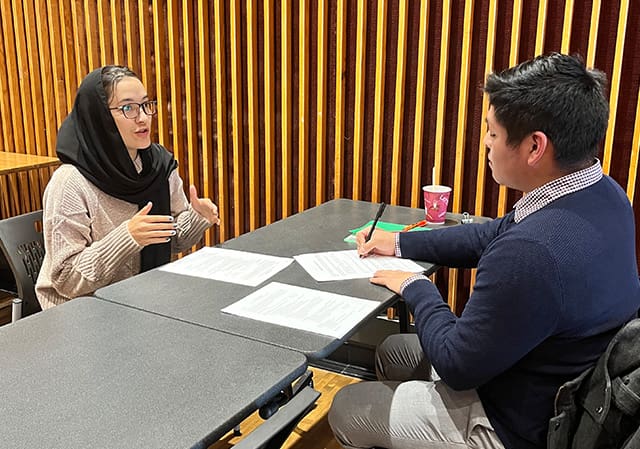 About Us
Founded in 1919, the International Institute of Minnesota offers New Americans quality services that support their journey to stability and success. Our comprehensive offerings include refugee resettlement, English education, workforce and leadership development, college preparation and support, and immigration and citizenship assistance.
An Inclusive Community

We are a welcoming, energetic and encouraging team of diverse individuals. Respect for each other and our clients is foundational to our every day work life.

Impactful Work

We believe in fostering the potential of every New American to learn, grow, and thrive. Your work helps further enrich the lives of these families and individuals in Minnesota.

Holidays and Paid Time Off

Self-care, holiday traditions and celebrations, as well as time with family, are essential to your well-being. We recognize and celebrate 13 culturally diverse holidays as well as provide paid sick time off.
Frequently Asked Questions
Yes, you can apply for more than one role at a time. Please fill out the application form for each job you're interested in.
If your application has been selected to move onto the next steps in the hiring process, you will be contacted by the hiring manager.
We require applicants to satisfactorily complete an online background check prior to an offer of employment. We will consider the position's job duties, among other factors, in determining what constitutes satisfactory completion of the background check. All information obtained as a result of a background check will be used solely for employment purposes.
We offer reasonable accommodation. Please contact Human Resources at donato-pannkuk@iimn.org for accommodations.
We do not offer visa sponsorship. We are committed to employing individuals who are authorized to work in the United States and do not unlawfully discriminate on the basis of citizenship or national origin.
Yes, you will need to provide verification of COVID-19 vaccination and bivalent booster.
Our staff works fully in person, Monday-Friday, 8:45 a.m. – 5 p.m. All positions will be provided with a workspace at IIMN only.
Contact Us
Please contact us with any questions you may have about working at the International Institute of Minnesota.
Dana Onato-Pannkuk
Human Resources Generalist
(651) 377-8614