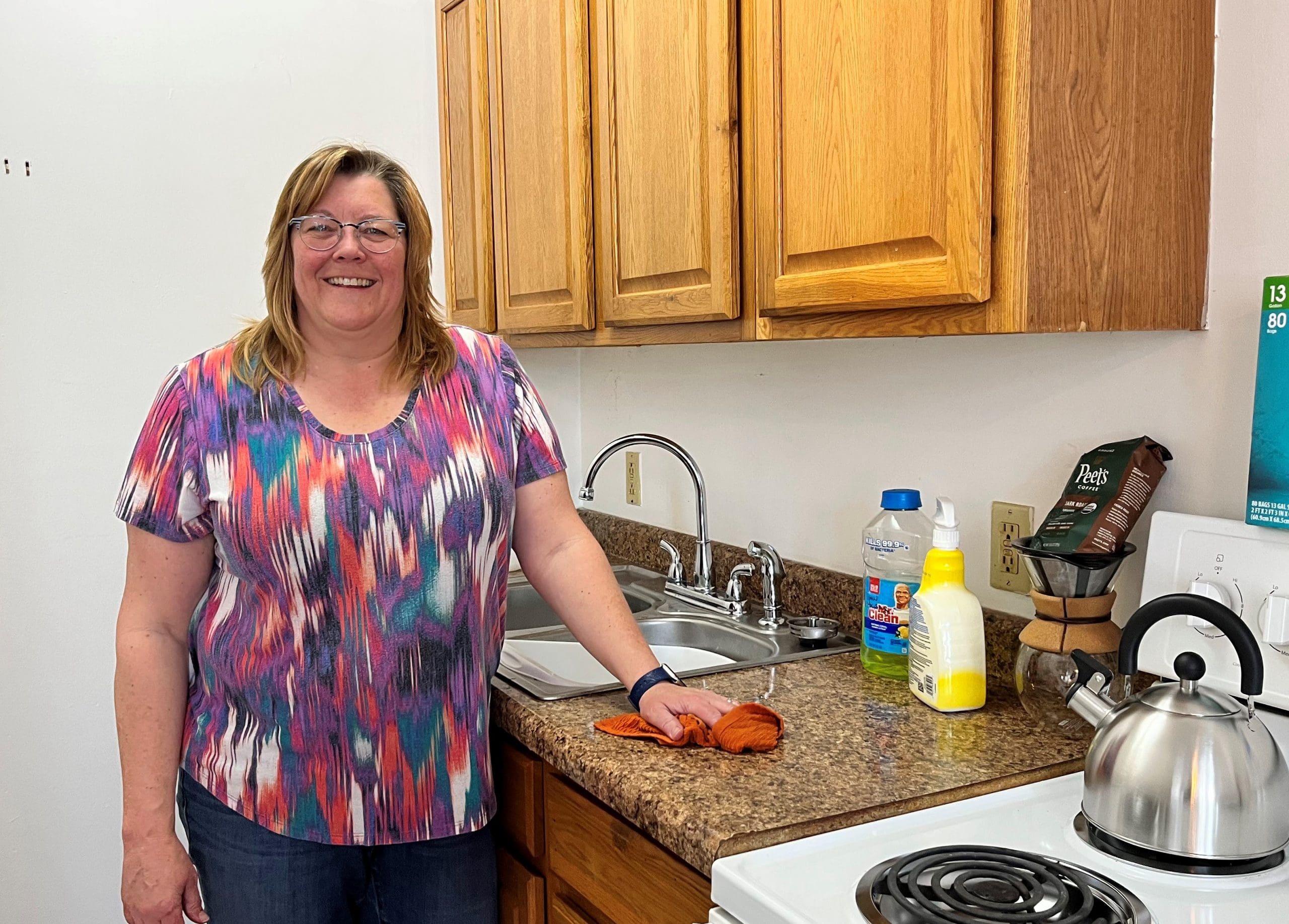 April 7, 2023 | When a refugee arrives in Minnesota, they come after leaving everything behind. Making sure they have a place to safely and affordably begin their new lives is step one of the refugee resettlement process. At the Institute, we not only provide housing for the refugees we resettle, but we set up the home so it's move-in ready and we also stock the kitchen with culturally appropriate groceries.
The Institute's housing coordinator, Sarah Burbage, shares in this Q&A about the importance of the housing work we do and how the community can get involved.
How does the Housing Services program work at the Institute?
First, our Refugee Services team receives notice from the U.S. Committee for Refugees and Immigrants (USCRI) of a newly arriving case. The case can be one individual or a family of up to 10+ members.  The average advanced notice of a new arrival is three weeks. But in some cases, we get as little as three days' notice. Once notification is received, housing services sets out to find safe, sanitary, affordable, and stable housing.
What are the challenges of finding housing for newly arriving refugees?
Finding landlords who are willing to rent to refugees, sight unseen, who do not have Social Security Numbers or an income, and working around their income and rental history requirements can be difficult. The cost of rent in the current market and the availability of units at such short notice can be barriers as well.
How do you overcome these challenges?
The Housing Department schedules showings and meets with the landlords face-to-face. This is the best way to explain to them who we are and what we do. We encourage them to check us out by exploring our website. We explain that we guarantee to pay the deposit and two months' rent.
It is so important to build respectful, trusting, and long-lasting relationships with our landlords. As our relationship builds, we are able to fill more and more empty units and in turn, are able to negotiate lower rents and shorter lease terms for new arrivals.
With our landlords who have multiple units, we tour all their buildings so we have an understanding of what is available to us. This is very helpful when we receive short notice before an arrival and need to get a home ready quickly.
Why is it important for newly arrived refugees to have their own safe homes?
A home address is essential for receiving state and county benefits, applying for jobs, and receiving additional rent payments, depending on the program they are enrolled in. Most importantly, they now have a place to feel safe and warm, to lay down their heads and rest after the long journey to Minnesota.
How do you furnish the homes and provide them with necessities?
Once we have secured housing, we schedule a housing set-up. This is usually one day before the refugee lands in Minnesota. We set up the place with everything needed to make it a home. We rely on in-kind donations such items as bedding, cookware, tableware, towels, bath items, toiletries, and cleaning products.
Monetary donations help us purchase items that are out of stock in our donation room. During the winter months, we provide winter jackets, hats, and mittens obtained through our winter coat drive. We purchase furniture such as beds, kitchen tables, chairs, and sofas.
How can the community help?
RENT! If you are a landlord or know someone who owns rental property, please consider renting to refugees. They are excellent tenants.
DONATE! There is a complete list of housing items needed on our website.
VOLUNTEER! Come set up an apartment with us. Make beds, assemble a crib, hang a shower curtain, fill a silverware tray with knives, forks, and spoons, and stock the fridge with groceries. Join us in making an empty apartment a cozy home!
What are the benefits of partnering with the Institute and renting to refugees?
Landlord partners receive the application fee, deposit, and two months' rent upon confirming the unit. Additional rent support is possible depending on which program the client qualifies for.
Tenants are extremely motivated to create a new home and life in Minnesota and have been trained to maintain a home. They receive support from the Institute, have access to case management and interpreting services, and have undergone an extensive background check and screening process.
---
Sarah Burbage is the Housing Coordinator for the International Institute of Minnesota's Refugee Services department. She began working at the Institute in January 2022, during the height of the Afghan housing crunch. She uses her past experiences in quality assurance and compliance to secure high-quality housing and favorable lease terms for refugees resettled by the Institute.