Professional Leadership Training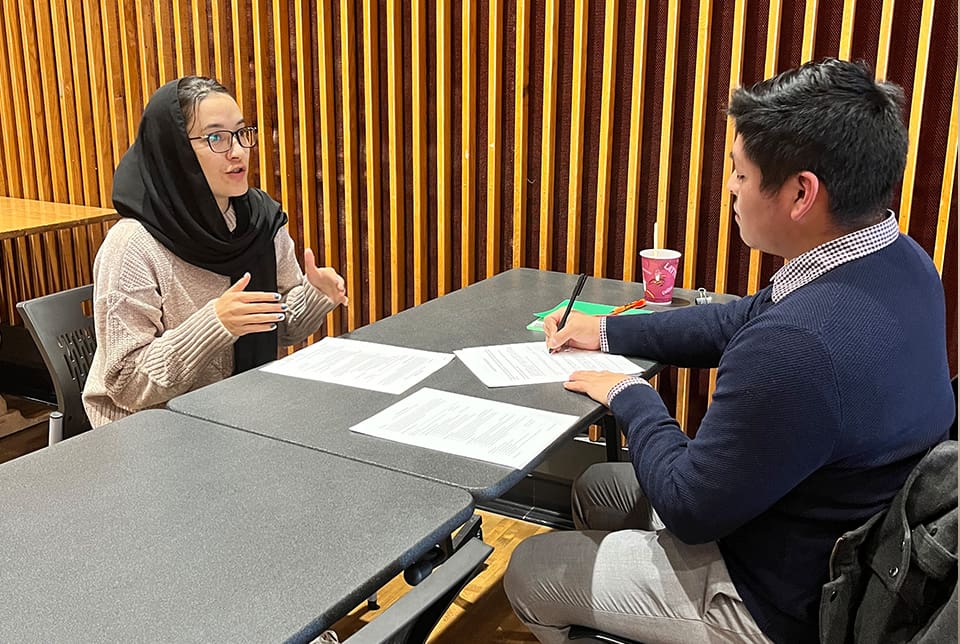 Develop Leadership Skills for Career Advancement
Expand your career potential by strengthening your leadership and management skills during our 12-week Professional Leadership Training. This class is designed for New Americans with U.S. work experience across industries.
Alongside a community of supportive peers from around the world, you will increase your confidence and abilities in presentation skills, employee management, networking and digital literacy. Throughout this experiential class and after graduation, we provide employment guidance to find a job, get a promotion, or identify additional training as needed.
Next session:
January 30 – April 18
Tuesdays, Wednesdays and Thursdays | 5-8 p.m. (online only)
Begin Today
To register for Professional Leadership Training, choose one in-person orientation session, which is required to participate in the class:
Monday, January 22, 6 – 8 p.m. OR
Thursday, January 25, 6 – 8 p.m.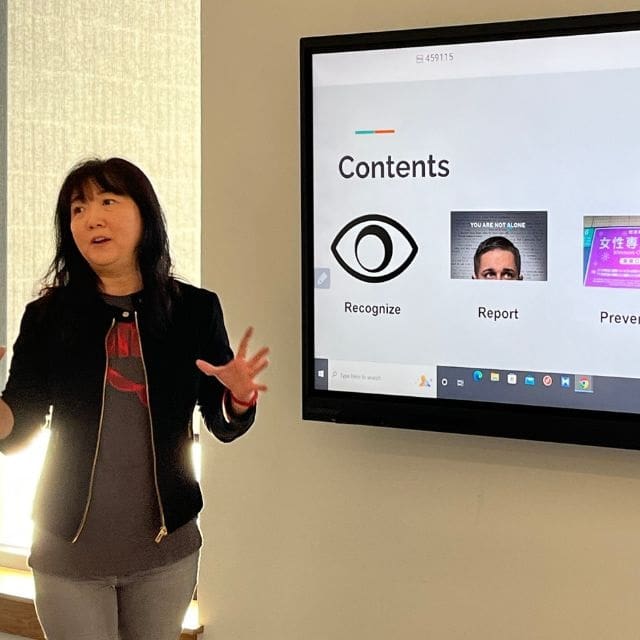 Who Can Take Classes?
To qualify for our Professional Leadership class, you must:
Be born outside of the United States
Have worked in the U.S. for six months or have an advanced degree from your home country
Have high intermediate or above English reading, writing, speaking, and listening skills
About This Class
Here is a snapshot of what you will learn during Professional Leadership Training:
Emotional intelligence: What is your leadership style? How do you work with others?
Advanced customer service: How is it different in the U.S. than other cultures?
Teaching and training employees: Learn and put into practice teaching and training techniques
Networking: Develop your elevator speech, create or update your LinkedIn profile, and gain hands-on experience through informational and mock interviews.
Financial coaching: Receive one-on-one, private coaching sessions to discuss budgeting, your credit score, identity theft and financial goal setting.
Digital literacy: Integrated throughout the curriculum to learn and use Excel, Google Suite, and PowerPoint; polish your resume and write cover letters
Presentation skills: Final presentation based on your informational interview with someone in your chosen field
Graduates are also eligible for a three-month paid internship with TPI Hospitality.
What Our Clients Are Saying
Use Next and Previous buttons to navigate, or jump to a slide using the slide dots.
1
Every day I learned something new … Everything I learned in the Institute helped me. They gave me a guide — what to say, when and how to say things.

Yosmary

Professional Leadership graduate

Read Full Story

Very empowering training. This class was exceptional for many reasons. I wish (I) could attend more classes like this.

Ewa

Professional Leadership graduate
Frequently Asked Questions
We teach our Professional Leadership Training three times per year.
Professional Leadership Training offers options throughout the year. Summer and fall sessions are daytime classes, online or in person, 10 a.m. – 1 p.m. Our winter session is an online-only, evening class 5-8 p.m.
For the Professional Leadership Class you need to have worked in the U.S. for six months OR have an advanced degree. If you aren't sure if you qualify, contact us lthomspon@iimn.org
More Classes and Job Trainings
Citizenship and Immigration

We support over 2,000 refugees, asylees, and immigrants every year with citizenship and immigration help in Minnesota.

Learn More

Homestretch Workshop

 Learn how to buy a home, how to apply for a mortgage, and earn points off your mortgage rate in this one-time workshop.

Learn More

All Classes and Job Trainings

Learn about our many free classes and job trainings that support your journey as a New American.

Learn More
Contact Us
Call or email us if you have a question about our Professional Leadership Training.
Lynn Thompson
Program Manager
(651) 377-8626