"It was important for us to have a place to go. A place where people understood where we had been." -Denise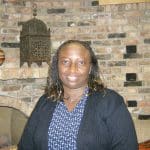 Denise Uwizera was born and raised in Rwanda. She and her family were victims of the tragic 1994 genocide in that country. They were targeted during the genocide because her husband, Jean De La Croix, was educated with a Masters degree in Psychology and was a high school psychology teacher. During the violence, Denise, Jean and their two young children made their way to a refugee camp in Goma, Congo, where they lived for four years.
One night the government attacked the refugee camp and, having no other place to go, they returned to Rwanda. "Our choice was to run into the bush and likely be killed or return to Rwanda," said Denise. The Rwandan government, as part of their reprisal attacks on the Hutu people, killed Denise's father, her uncles and her aunts, many of them in front of her eyes. Her husband, an orphan, had no family to lose. Denise and Jean knew they had to leave. Jean made his way to St. Paul as an asylee while Denise and their two children fled to a refugee camp in Kenya.
Soon after his arrival in Minnesota, Jean enrolled in the Institute's Nursing Assistant Training. After graduating, he began working two nursing assistant jobs so that he could support his family. In the Kenyan refugee camp, there was no work or resources for Denise and their children, and they relied entirely on the income Jean was able to provide for them.
During his Nursing Assistant Training, Jean often talked with staff about his loneliness and his longing to see his family. Staff at the Institute helped Jean complete the paperwork and supported him through the process to reunite his family. In 2005 after a seven-year separation, Denise and her two children—ages 15 and 12—were finally able to rejoin Jean in St. Paul. Jean brought his newly arrived family to the Institute to meet staff the day after they arrived. Their arrival transformed Jean. He wore a permanent smile, and staff heard him laugh for the first time.
Just three weeks after Denise arrived in St. Paul, she passed the rigorous entrance exam to the Institute's Nursing Assistant Training program, unhindered by the fact that English was her fourth language. She graduated in December 2005, passed the state certification exam, and just over a month later, got a job working full-time as a nursing assistant at Lyngblomsten Care Center.
Denise had been a nutritionist in Rwanda, working in a nutrition center for malnourished people who in many cases were also afflicted with AIDS. When she decided it was her goal to become a nurse, it was not the change in career it was for her husband.
Denise soon came back to the Institute to start an intensive College Readiness class so she could study to become a nurse while also working. Denise describes the value of the class, "I had no idea what college was like here, or even where the college was, so I joined the program at the Institute so they could help me. I learned what to expect from an American college—composition, medical terminology, and speaking and writing skills and the fast-paced learning. After this class, I only had to take one Development Education course when I entered college, and so I saved a lot of money and time on remedial courses."
In her first semester in college, Denise had a 4.0 GPA and was accepted into Saint Paul College's nursing program. She graduated in 2008 with an LPN and was promoted to an LPN position in Lyngblomsten's Transitional Care Unit.
Denise returned to school, this time to pursue a RN degree at Minneapolis Community and Technical College. Denise graduated and in June 2016, she passed her state board exam. She still works in Lyngblomstem's Transitional Care Unit, but now as the Charge Nurse.
As you can imagine, it has been anything but easy for Denise, working full-time while pursuing nursing degrees, raising two children, and adjusting to a new country. Denise's family is thankful and happy. Her daughter graduated from North Dakota State University as a respiratory therapist and is now working at St Joseph Hospital, and her son graduated in May 2016 with a degree in business marketing and sales. He is now working for Access Specialties International. Their future is bright thanks to their parent's hard work.
Denise and Jean are special people, yet they are the rule rather than the exception at the Institute. We have exceptional programs, but the beauty of our work is that we have so many determined, hard-working, resilient people who are making the most of these programs. As Denise said, "It was important for us to have a place to go. A place where people understood where we had been."