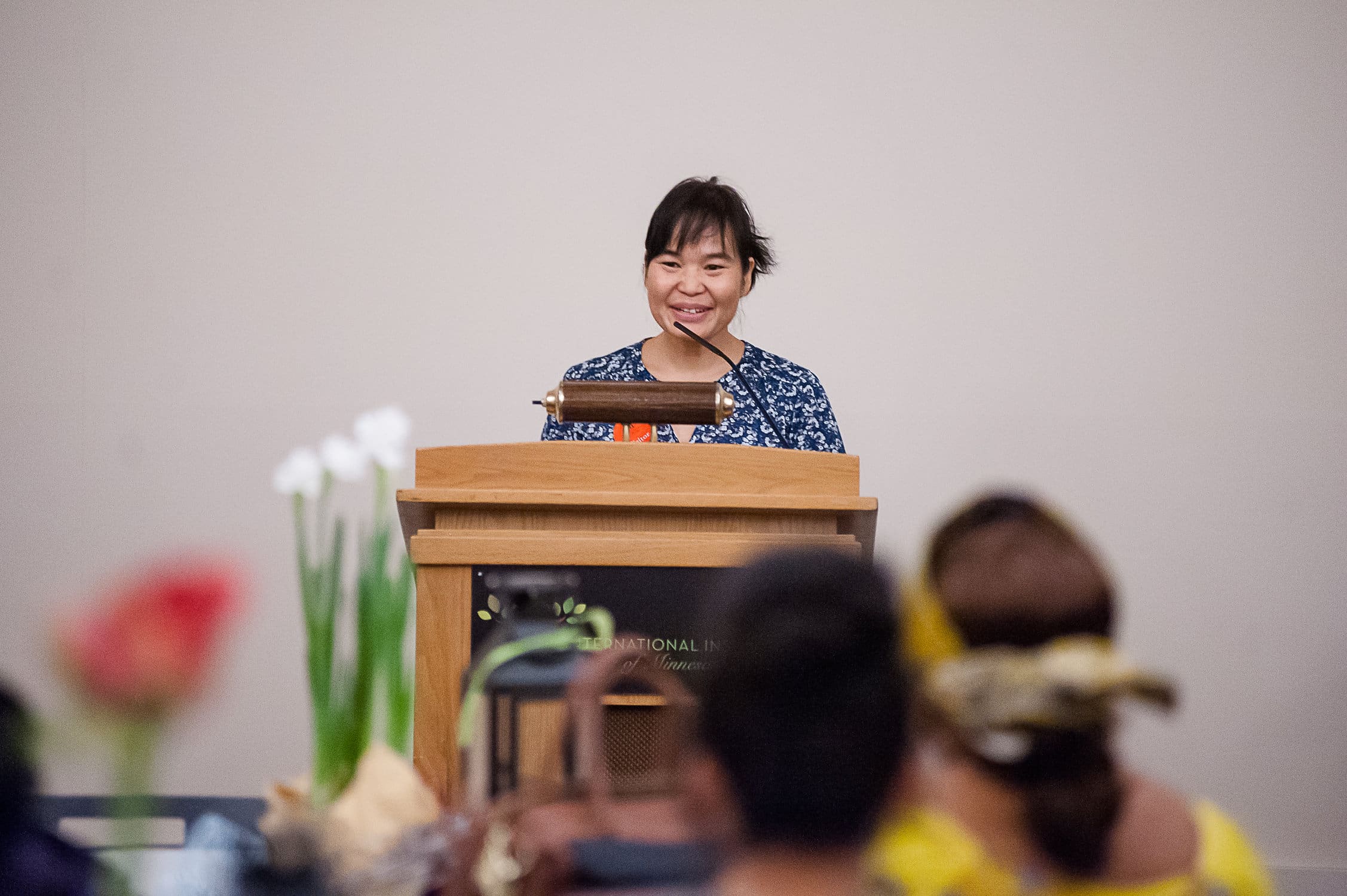 Kushe, the Caregiver
"In America, to find a good job you have to have a resume. You just can't jump to college right away…so many barriers, so many rules, so much paperwork. I couldn't have done it on my own. I am grateful that we have the Institute. Staff helped me and showed me the way. Because of them, I made it this far. They enabled me with knowledge and skills. I'm very blessed. My children will be educated and they will have lots of choices.'' -Kushe
When Kushe stepped through the doors of the Institute, she began building relationships that would change the course of her life. She is a soft-spoken woman whose quiet nature masks tremendous determination. This determination and compassion has inspired staff from every corner of the Institute for over a decade. Kushe generously attributes much of her success to the support of Institute staff, saying that "everything I am now is from the Institute." While staff have been honored to assist her, they know that Kushe's success is the result of her own talents and strength.
Having grown up in Burma as a member of the Karen ethnic group, Kushe is no stranger to adversity. The majority of her childhood was spent fleeing from the Burmese army, which has persecuted the Karen people for decades. "We were always on the run, many times hungry, always in fear," Kushe recalls. "We never knew when the Burmese soldiers would come and try to kill us. Everywhere we went, we tried to attend school but I only learned a little, here and there.''
After years of fleeing the army, Kushe sought refuge in a refugee camp along the Thai-Burma border. While waiting for her application for resettlement to be processed, Kushe taught English to Karen children living in the camp and ministered to families who had lost loved ones. In the camp she met the man who would become her husband, Victor. They fell in love, but were resettled to different countries; Kushe was sent to Louisiana and Victor, to Ontario.
When Kushe arrived in Louisiana, she remembers feeling as if she had found paradise. "It was like heaven, because it was safe, and people brought you food. I had never seen ice cream before. There were lots of clothes to wear. And nobody bothered you.'' Shortly after her arrival, Kushe found a job and worked for two years at a restaurant. She began to apply herself further, and attained her GED. Kushe and Victor were able to visit each other occasionally, and they decided to marry. Their continued separation was difficult, especially after Kushe discovered she was pregnant. Kushe decided to move to Minnesota to be closer to Victor.
Kushe knew she needed a job, and a relative had told her that the Institute helped New Americans in Minnesota. She decided to enroll in the Institute's Nursing Assistant Training. Kushe was a distinctive applicant; she was one of the first Karen refugees in the Nursing Assistant Training program. With an average test score of 97%, Kushe excelled in the program. The excellent care she provided during her clinicals was noticed by her Institute Instructors and clinical supervisor. After graduating from the program, she was hired at St. Anthony Park Home, where she had performed her clinicals.
While working and caring for her daughter, Kushe began the immigration application to bring her husband to the United States. She brought the paperwork to the Institute where staff helped her complete the application. After a long process, Victor and Kushe were reunited in the Twin Cities.
Kushe enjoyed her work as a nursing assistant, but found that she wanted to be able to do more for her residents: she needed to become a nurse. After making that decision, Kushe returned to the Institute for a summer grammar course that strengthened her English in preparation for courses at Saint Paul College.
For the next few years, Kushe tenaciously acquired credits and credentials. She completed her Phlebotomy certification at Saint Paul College in a program co-taught by Institute and Saint Paul College instructors. The Institute's Medical Career Advancement program awarded Kushe scholarships and connected her with tutors as needed as she pursued her LPN degree. During her studies, Kushe returned to the Institute to complete her application for citizenship, and became a citizen.
Kushe faced many obstacles and occasional setbacks in college. Having grown up outside of the U.S., Kushe was often at a disadvantage during her studies. For example, the majority of U.S.-born nursing students would not need a nursing class to teach them that a Kosher diet excludes pork, but for Kushe, this was new information. Kushe also had a great deal of test anxiety. This anxiety is common to many of the New Americans served at the Institute, so the Institute offers a test stress reduction workshop lead by a retired nursing instructor. Kushe used the techniques from this workshop to stay calm and focused during her board exam.
Today, Kushe and her family are thriving. Kushe passed her LPN board exam in July 2016. She began orientation for her new role as a nurse at St. Anthony Park Home in August.
She and Victor bought their first home, and their three children, Hteemoo, 14, Jeremiah, 12 and Hannah, 6, are in programs for gifted children in the St. Paul Public Schools system. Victor is currently applying for U.S. citizenship with the Institute's assistance.
Kushe's journey has been a long one, and while she still has more that she wants to achieve, she has much to be proud of.