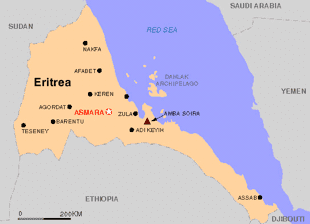 Country Profile
Eritrea is a small country of 6.3 million in East Africa. After more than a century of colonization by the Italians, British and Ethiopians, the Eritrea's gained independence in 1993. Following independence the Eritrean people started building their new country and revitalizing its economy. Their amazing strides forward in improving health, education and the economy resulted in Eritrea being recognized internationally as an African "success story". In 1998, war with Ethiopia erupted into a bloody on-going conflict. Eritrea is a poor country, which primarily depends on subsistence agriculture. Tourism, shipping and mining are economic sectors that are starting to be explored but are not yet significantly developed. Many Eritreans live in other places besides Eritrea, including Sudan and Ethiopia.
The People
Half of all Eritreans are Tigray and Tigrinya-speaking Christians. People of the same ethnic make-up live across the border in Ethiopia. The other major ethnic group, the Tigreans, is Muslim and comprises one-third of the population.
Language
Eritrea has no government-mandated language. The government uses Tigrinya, Arabic and English. Tigrinya and Tigre, closely related, are the two most commonly spoken languages.
Religion
Equal numbers of Eritreans practice Islam and Christianity. The Eritrean Orthodox Church is the largest Christian church. Small numbers of Roman Catholics and Protestants are present in Eritrea.
Arrival in U.S.
Eritreans came to the U.S. as refugees from Ethiopia prior to their homeland's independence or were already in the U.S., frequently as university students, during the 1980s and received political asylum. During the late 1990s Eritreans came to the U.S. on diversity visas.
Minnesota Population
There may be as many as 2,000 Eritreans in Minnesota with a large community established in St. Paul's West 7th area.