Country Profile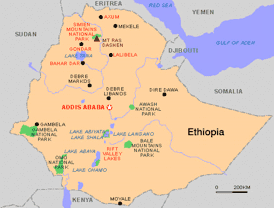 Ethiopia is a landlocked country in East Africa.  It has a population of 101.1 million people. Since 1980, civil war and ethnic conflict, accompanied by drought and famine, have resulted in hundreds of thousands of refugees fleeing and settling in surrounding countries.  At the end of 1998, tens of thousands of Ethiopians remained refugees in neighboring countries.
Approximately, agriculture accounts for almost 41% of the GDP with coffee being the main export. Urban dwellers are often civil servants, shopkeepers and laborers.  Upper-level civil servants are educated at universities, both domestically and abroad.  A high school degree is common among urban residents.  In rural areas education is limited with significant rates of adult illiteracy.
The People
More than 75 ethnic groups live in Ethiopia, but the Oromo (35%), Amhara and Tigrean (33% combined) are the largest. Until 1991 the Amhara dominated political life in Ethiopia even though the Oromo are the largest ethnic group. As a result, ethnic strife has resulted between the Amhara and Oromo. For a period of time the Ethiopian government attempted to impose a national culture upon the entire country. Since 1991 the Tigreans have controlled the nation's political and economic scene.
Language
Ethiopia is a nation with some eighty languages and almost 200 dialects. The three main languages are Amharic, Oromifaa, and Tigrinya. Amharic is the official government language. For a period in the 1970's the government banned Oromifaa and numerous other languages.
Religion
The Ethiopian Orthodox Church (Coptic Christian) and Islam are the two main religions in Ethiopia.
Arrival in U.S.
During the early 1980s, many Ethiopian professionals and students already in the U.S. obtained political asylum. They now work in a variety of professional fields and are socioeconomically well established in American society.
More recent arrivals come to the U.S. as refugees, asylees and as permanent residents through family members or the Diversity Visa Lottery Program. Some of these arrivals did not complete their education or acquire necessary skills to compete in the U.S. labor market. Many work in entry-level jobs while attending school part-time to complete their high school, vocational or college education.
Minnesota Population
The Census shows 13,927 Ethiopians living in Minnesota, although local community leaders believe the population is much larger, with the majority being Oromos. Increasingly Ethiopians are coming to Minnesota as secondary migrants from other states due to the strong job market and to be reunited with family. There are an estimated 10,000 Ethiopians living in Minnesota with the Minneapolis neighborhoods of Seward and Cedar Riverside currently having the largest populations.
(Last updated January 2017)