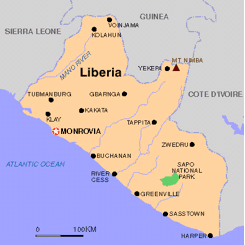 Country Profile
Liberia is a nation of almost 4.2 million people located on the Atlantic coast of West Africa. Former slaves from the U.S. and the Caribbean called Americo-Liberians founded the first republic in Africa, Liberia in 1822. Throughout Liberia's history it has had very close relations with the U.S. Liberia experienced political instability at numerous times during the 1980s. Civil war erupted in 1990, and throughout much of the decade warring factions disrupted normal civilian life, forcing tens of thousands from their homes and into neighboring countries as refugees.
The People
The Americo-Liberians, an English-speaking minority, make-up only 5 percent of Liberia's population but have dominated politics. The indigenous ethnic groups include the Kpelle, Bassa, Gio, Kru, Grebo, Mano, Krahn, Gola, Gbandi, Loma, Kissi, Vai, and Bella.
Language
English is the official language and used by approximately 20 to 30 percent of Liberians. Some 20 indigenous languages are spoken in Liberia. 
Religion
More than 60 percent of Liberians are Christians, predominantly Protestant. The remainder is Muslim or practices traditional beliefs.
Arrival in U.S.
There are an estimated 250,000 Liberians living in the U.S. Many Liberians came to the U.S. in the 1980s following the civil war. Some came as students but were unable to return to their homeland. A second wave of refugees arrived during the late-1990s as a result of more civil strife in Liberia. 
Minnesota Population
More than 800 Liberian refugees were resettled in Minnesota during the 1990s. In 1999 Minnesota resettled more than 400 Liberians with new refugees expected in 2000. Liberians are scattered throughout the Twin Cities with a concentrated population living in Brooklyn Park and Brooklyn Center. It is estimated that about 35,000 Liberians are currently living in Minnesota.