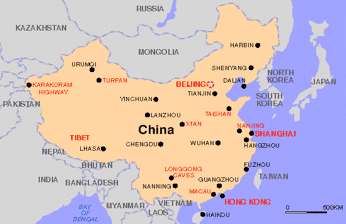 Country Profile
For five thousand years China has maintained a rich and lasting civilization. Officially called The Peoples' Republic of China, the current system of government was established under the Communist regime of Mao Tse Tung in 1949.  China has the world's largest population with more than 1.3 billion people and is often referred to as "Mainland" China. The island nation of Taiwan is called the Republic of China.  This "break away" government was established by Chinese exiles in opposition to the Communists.  The former British colony of Hong Kong has many English-speaking Chinese while the former Macao colony (near Hong Kong) was governed by the Portuguese.  Both are now part of The People's Republic of China.
China is a political and economic superpower.  The majority of the population is engaged in agriculture but manufacturing and high-tech industries are developing.  Central government control of the economy still exists while individual freedoms are limited and political dissent forbidden.
The People
The Han Chinese is the major ethnic group in China.  There are 55 additional ethnic minorities, 15 of which are comprised of more than one million people.
Language
The various Chinese dialects make it difficult for the Chinese to understand one another except through the written language.  The two main dialects are Mandarin and Cantonese.  Mandarin is the dialect established by the Communists as the "proper" language of choice to teach in government-run schools and to use in government agencies.  Cantonese is spoken mainly in the south, but its influence is felt worldwide because of immigration to the West from Hong Kong and China's southern region.

Religion
Chinese are likely to be agnostic or atheistic in their beliefs since religion was discouraged during the Communist era. There are small percentages of Christians and Buddhists in Mainland China. Acupuncture, martial arts, Tai chi, feng-shui, and chi-gong have mystical and religious connotations, but the Chinese view them not as religions but as philosophical contributions to their society.
Arrival in U.S.
The Chinese population in the United States dates back to the 1890s, but a large influx of immigrants came in the 1940s.  Chinese university students have come to the U.S. in large numbers throughout the 1980s and 1990s.
Minnesota Population
It is estimated that as many as 10,000 Chinese immigrants and persons of Chinese descent live in Minnesota.  Chinese Minnesotans live throughout the Twin Cities and greater Minnesota.  The Twin Cities area has the second largest concentration of Mainland Chinese college and university students in the United States.