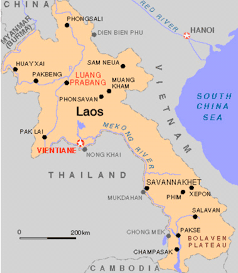 Country Profile
Laos is a small nation of 6.7 million people in Southeast Asia.  Laotians are divided into more than 65 different ethnic groups with eighty percent of the population living in rural areas.  As a result, the economy of Laos is predominantly based on subsistence agriculture.
Laos was the scene of both fighting and significant U.S. bombing during the Vietnam War.  The U.S. sponsored armies in Laos, of various ethnic groups, to help fight the North Vietnamese and Communist forces in Laos.  As a result, tens of thousands of Laotians were forced to flee their homeland for Thailand following the U.S. withdrawal from the region and the Communist take over of Laos. Since 1975 a Communist government has ruled Laos.
The People
The two major groups are the Lowland Lao, which is the largest single group, and the Highland Lao. The largest Highland group is the Hmong community; another Highland group is the Khamu.
Language
Lao is the official language of Laos.  Other important languages are Hmong and Thai.  Some Hmong people speak Lao, but for the most part Lao people do not speak Hmong.  It should not be assumed that Laotians and Hmong can communicate.
Religion
Theravada Buddhism is adhered to by 90 percent of the population. Animism is still present among various tribes. Christians represent only about one percent of the population.
Arrival in U.S.
The Lao people have come as refugees to the United States since the early 1980s from camps in Thailand.
Minnesota Population
There are 15,000 Laotians in the Twin Cities area.  The majority of the population lives in south Minneapolis, St. Paul and Richfield.