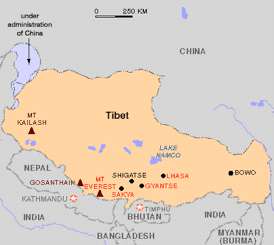 Country Profile
Tibet, once an isolated, independent Asian kingdom in the Himalayas, has been a province of China since 1950 as a result of China's invasion and take-over.  The Tibetan people have endured political and cultural repression during the years of Chinese rule. Much of Tibet's cultural heritage and many religious monasteries have been destroyed while Tibet's traditionally devout practice of Buddhism has been suppressed.  Thousands of Tibetans have been forced to flee their homeland as refugees, settling in India and Nepal.
The People
Tibetans are predominantly of the same ethnic origin and traditionally practice the same religion and speak the same language.
Language
Tibetan is the language of Tibet.  Mandarin Chinese was introduced in the 1950s.  Many Tibetan refugees have lived for many years in exile in India and may also speak English.
Religion
Tibetans have traditionally been Buddhists with the Dalai Lama, the spiritual head of Tibetan Buddhism, as the supreme political head of the nation. The Dalai Lama was forced into exile in 1959.  For much of the time since their occupation of Tibet, the Chinese have attempted to eliminate the influence of religion in Tibetan life by destroying temples, religious artifacts and scriptures.
Arrival in U.S.
Congress granted Tibetan refugees in India and Nepal a special allowance of 1,000 immigrant visas in 1990.  The visa status required that Tibetan immigrants secure employment prior to arrival in the U.S.  Local organizations, like the Tibetan American Foundation of Minnesota, assisted in finding local employers to guarantee the immigrants jobs.
Minnesota Population
In 1992 Minnesota received 160 immigrants of Tibetan origin.  These were all adults that eventually secured the resources necessary to bring their family members to the U.S.  Presently the Tibetan community in Minnesota is estimated to have a population of 800, the second largest Tibetan community in North America.  Large concentrations of Tibetans can be found in the Whittier neighborhood of Minneapolis and in northern Hennepin County where some seventy families have become homeowners.