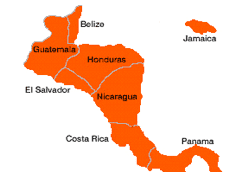 Country Profiles
Seven nations comprise Central America — Belize, Guatemala, Honduras, El Salvador, Nicaragua, Costa Rica and Panama. While the region shares a common language and deep historical roots, each nation has developed its own distinctive political, economic and social structures as well as unique culture and character. Central American nations also share a common economic dependence on agriculture with light industry and manufacturing as growing sectors. Throughout the region, rural poverty and growing populations have led to increased urban migration, resulting in large expanding cities with poor living conditions.
Throughout the 1970's and 1980's, civil wars in Guatemala, El Salvador and Nicaragua spilled over into the entire region resulting in political repression and extreme violence. The U.S. recognized very few refugees from Central America. Central American migration to the U.S. throughout the 1980s and 1990s has primarily been for political as well as economic reasons..
 The People
Originally populated by indigenous peoples, Central America was colonized by the Spanish in the 16th Century. The descendants of the Spanish colonizers have mixed with indigenous peoples over the centuries. Central Americans are ethnically mixed with minorities of Europeans and indigenous peoples remaining. About half of the people in most Central American countries live in rural areas. The majority of Central Americans are literate.
Language
Spanish is the official language of most Central American nations, but each country has its own accent, colloquialisms and lexicon. In several countries the indigenous populations have retained their native languages.
Religion
The majority of Central Americans are Roman Catholic. An increasing number of Evangelical Christian churches are growing in popularity.
Arrival in U.S.
Estimates for the number of Spanish speakers in the Twin Cities vary greatly. It is approximated that about 120 legal immigrants come to Minnesota from Central America each year. They are usually here for political, economic, and educational reasons.
Minnesota Population
As of 1996 there were approximately 2,600 Central American immigrants living legally in Minnesota. The majority live in the Twin Cities, with the greatest number residing in Hennepin County.