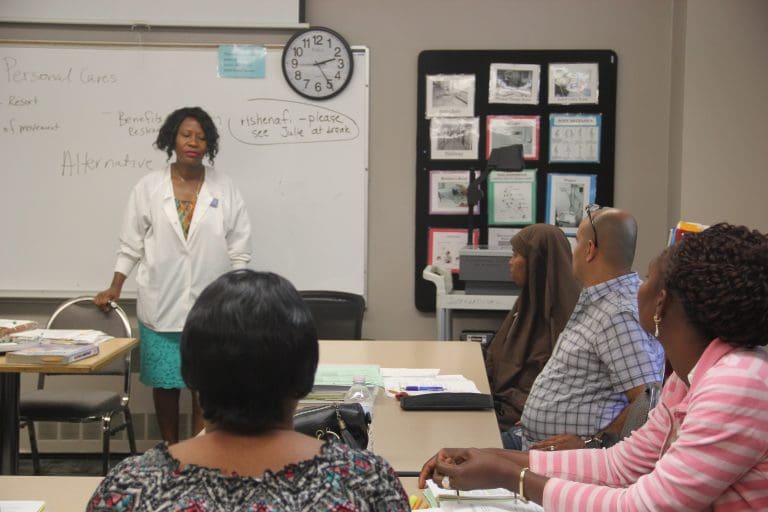 The Institute's Nursing Assistant Training prepares New Americans to work as Nursing Assistants. Institute graduates work in nursing homes and other health care facilities. Nursing Assistants provide personal care for older people, including dressing, bathing, and taking vital signs, among other duties. After certification, graduates enter jobs paying  between $12.00-12.50 per hour on average. Dedicated Institute employment specialists assist graduates with the job search process. Our 79 employer partners provide employment opportunities for our motivated graduates.
This training program provides extensive skills and clinical instruction which incorporates cross-cultural training. Small class size, with a clinical instructor/student ratio of 1 to 6, results in the exceptional passing rate of 98% on the State Certification exam. Students in our program will also receive course credit from Saint Paul College.
To qualify for Nursing Assistant Training, an applicant must:
be an official refugee, permanent resident, naturalized U.S. citizen or have permission to work in the U.S.
pass the Institute's English test and be interviewed (see To Enroll, below)
speak and understand English well enough to succeed in class and communicate with staff and residents in the healthcare facilities where she/he will work
be in good physical condition
Cost:
Training is tuition-free.
Students pay $30 for a background check and $100 for the state Nursing Assistant Certification test.
Students are responsible for providing their own uniform and transportation to and from class.
Dates and Times:
Classes last for either 8 or 11 weeks.
Classes meet Monday – Friday from 8:30 a.m. to 2:30 p.m.
Calendar (dates vary by class)

Winter Session: January – March
Spring Session: April – June
Summer Session: July – September
Fall Session: October – December
To Enroll:
You must take our English test.
If you pass our English test, you will be interviewed by a member of our program staff.
Registration will open on April 10 for the May 31 entrance test. Please call Julie at 651-647-0191 x 314 to register.
Please call Julie at 651-647-0191 x 314 with any questions.