Internships are a vital part of supporting New Americans through the transition process to their new community in Minnesota. Individuals who have worked in or would like to gain experience in employment services, human resources, nonprofits, refugee services, placement agencies, or similar settings are encouraged to apply. Internships are unpaid and usually four months long with three terms in a year. At the Institute, we are flexible and willing to adjust interview dates, start dates, and assignments to accommodate your school's internship requirements.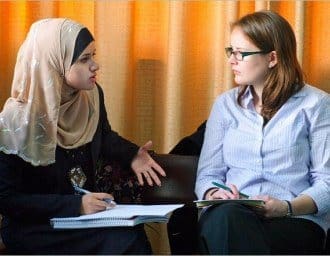 Internship Terms:
Summer Term: May/June – August (Interviews in May)
Fall Term: September – December (Interviews in August)
Winter/Spring Term: January – April/May (Interviews in December) 
If you are interested in an internship, please complete our internship application. Resume attachment is required.
If you have any questions, please contact Hayat Mohamed at HMohamed@iimn.org.