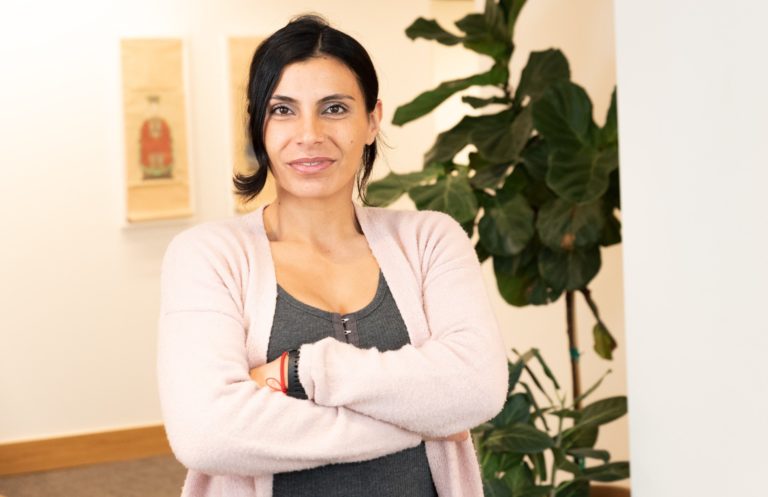 Starting over in a new country takes persistence and determination. And for many, starting over is not a choice at all. Each day, we are inspired by the resilience of our students and clients. Your support provides New Americans like Nour access to programs that help them achieve a new beginning.
Courage & Persistence
Notes scrawled with motivational messages stuck to her bedside table, the mirror, the refrigerator and walls. Balancing school, work and single motherhood required all of Nour Tamimi's courage and determination. Through early mornings, full days and long nights, she studied hard and worked hard, all while snuggling her children – persevering to create a better life for her family.
"I was very determined to succeed," Nour said. "I had to write reminders for myself when things felt really hard and when I didn't know if I could do it."
Nour, a Lebanese immigrant, enrolled in the International Institute of Minnesota's Nursing Assistant Training and Medical Career Advancement programs, working her way from being an unemployed teen immigrant in an abusive, forced marriage to having a career as a registered nurse (RN).
Success wasn't overnight.
Nour bravely left her forced marriage in 2013. She spoke little English, had no family or friends and no exposure to life outside the house. Once she and her children moved into a domestic violence shelter, the possibilities of life began to open up. It was during this time that she learned about the Institute's Nursing Assistant training.
"It's been a tough journey.
It's been a lot of work, a lot of effort,
a lot of consistency, a lot of tears …
But if we really want to do
something – really want it so bad –
we can totally do it.
I think it's possible."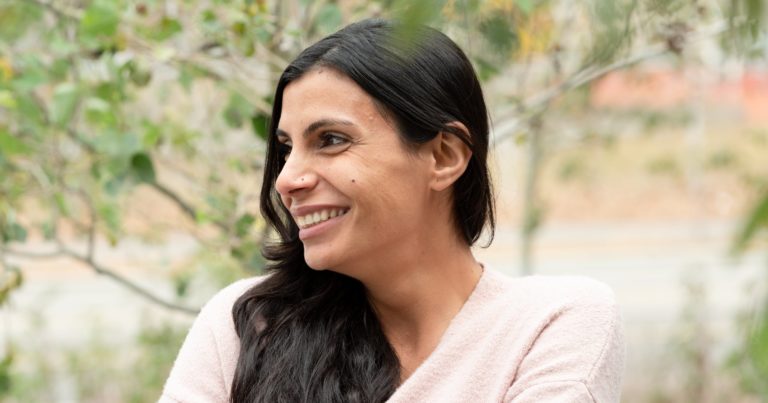 A Bold First Step
Her first, bold step into the classroom would change the direction of Nour and her children's lives forever.
"I was a single parent with five kids. I was very overwhelmed at the beginning. I didn't know if I could do it," Nour said. "Then I started, and I was in love with the staff and the materials I was diving into. I learned about budgeting. I improved my English. I learned a lot."
Her motivation? Supporting herself and her children.
"For the first time in my life, I had a career. It felt amazing. Accomplishing, confident, strong. I was proud to have a job," Nour said. "I was always told I would never be anything."
During that time she also trained for and completed the Twin Cities Marathon, which she said helped with "clarity of mind." Working as a nursing assistant helped her and her family become self-sufficient.
She credits an Institute teacher for encouraging her – a memory she still thinks about, almost a decade later, as she writes those sticky notes to herself.
"She would whisper in my ear, 'You can do it.' I believed her," Nour said. "I still hear her voice whisper in my ear."
"I get to choose my dreams.
I get to live them."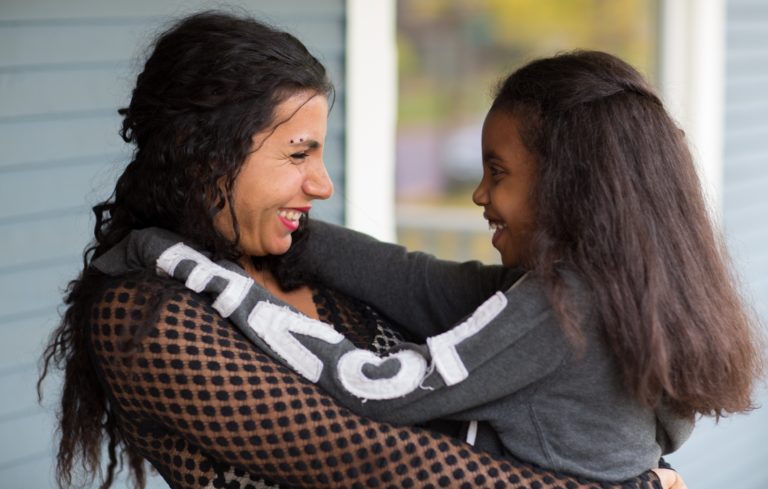 Giving Back
When she began as a nursing assistant almost 10 years ago, Nour immediately realized she wanted to keep moving forward with her nursing career. The International Institute of Minnesota's Medical Career Advancement program provided her with tuition assistance, one-on-one academic advising and employment support to help further her education and career. She studied and attended classes while also working and raising her children.
Nour continued to dream, focus and push as she studied to become a licensed practical nurse (LPN). She then moved with her children to Hibbing, where she began her associate degree with ongoing support from Medical Career Advancement. She graduated during the Covid-19 pandemic and immediately plunged herself into the most demanding work of her career.
While the state – and country – struggled to keep up with patient needs and staff burnout, Nour was one of the heroes who rushed in. She cared for Covid-19 patients through agency nursing, pool nursing and working for the state, whenever and wherever she was needed.
"Nobody was able to be there for these
patients who were passing and dying alone.
I was able to be there,
to hold their hands and
to give them touch and love."
Through it all, Nour learned to believe in herself. She wanted to show her children what was possible. She wanted to show herself. And she wanted to prove to other girls, women and immigrants that they, too, can succeed.
She shares her story to give back and to provide hope.
"She has spoken at graduation ceremonies, at our International Women's Day celebration and on panel discussions for Nursing Assistant and College Readiness students," said Brooke Anttila, Medical Career Advancement manager. "She has provided advice and encouragement to students about advancing their career in the medical field and has also been open to speaking with others who have similar life experience and need encouragement."
As for Nour's own success, she isn't done striving yet.
"For a long time, I lived my life thinking – no, I was taught – that this is all I get. This is what I should accept and to never question things or to go after my dreams. To not even have dreams," Nour said.
She'll soon finish her Bachelor of Science. Then, she'll choose which area of nursing to specialize in. She hasn't decided yet, but said she enjoys working in the community, so she's considering a public health focus. Nour also said she'd love to teach for the Institute's Certified Nursing Assistant program one day.
"The more I've had the chance to live my own life and learn from my challenges, I learned I get to choose my dreams. I get to live them, go after them and work really hard for them," Nour said. "That has been the most amazing thing. To live every day and be happy, for myself and my family. Life and dreams are within us. We can make them happen."
Reported and written by Alisa Blackwood, Communications Manager at the International Institute of Minnesota. Alisa's work at the Institute comes after years of writing for publications and organizations such as The Associated Press, O, The Oprah Magazine, TravelandLeisure.com, Health and more. The throughline of her work is sharing human stories that connect us all.