Program Story
Biking Workshops Bring New Americans "Freedom"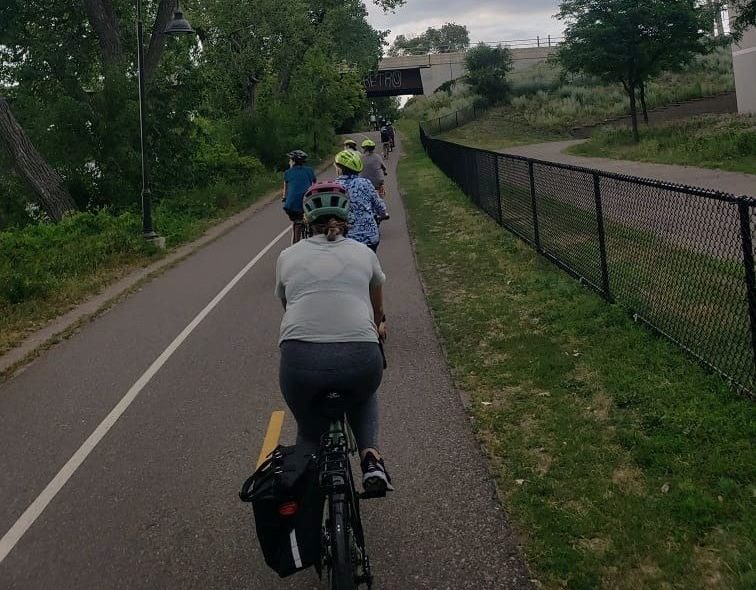 July 14, 2023 | Our teachers love to get creative by helping New Americans practice language and life skills through games, field trips, or in the summer ─ by simply heading outside.
Our Community Orientation Workshop students are particularly having fun this month with biking workshops, thanks to a partnership with BikeMN.
"There are significant gaps in how you are able to travel around the Twin Cities using just public transportation," explained Kaija Bergen, Community Orientation Workshop instructor. "For many new arrivals, the prospect of buying a car is far off ─ both due to cost and often the need to learn how to drive. However, by pairing public transit with a bike you can significantly cut down on the time it takes to get places."
The bike workshops are offered as a complement to Community Orientation's regular transportation lessons. In those lessons, students learn how to ride public transportation and navigate the bus and light rail lines. Now, the class is also exploring how to couple those skills with a bike.
At the end of any workshop with BikeMN, the students are given a free bike, helmet, lock, and lights.
Earlier this spring, the Institute offered a workshop to orient people to safe urban biking that was for New Americans who already knew how to ride a bike. This month's 3-week workshop is for adult New Americans who have never learned how to ride a bike. They gather every Thursday to practice, bringing their bravery, curiosity and ambition.
"Students who completed the previous workshops are now using their bikes to get to class and to work, as well as just to have fun and explore the Twin Cities," Kaija said.
As for the current bike workshop, "It's extra exciting because many hadn't thought it was something they would learn to do as adults!"
The biking workshop has also been offered twice at the Ukrainian American Community Center.
"One Ukrainian sponsor who came with the participating family told us how the couple had been waiting for weeks in anticipation of doing the workshop," Kaija said. "They said the program had "given them freedom.' "
---
Community Orientation Workshops, a partnership between the International Institute of Minnesota and Minnesota Council of Churches, provide English and life skills education across a variety of topics.  Individual workshops occur once weekly, covering themes including transportation and community resources, job readiness, financial literacy and  health literacy.  Classes are designed to assist adults in their transition to life in the U.S. while building literacy skills in the areas of reading, writing, listening and speaking English.