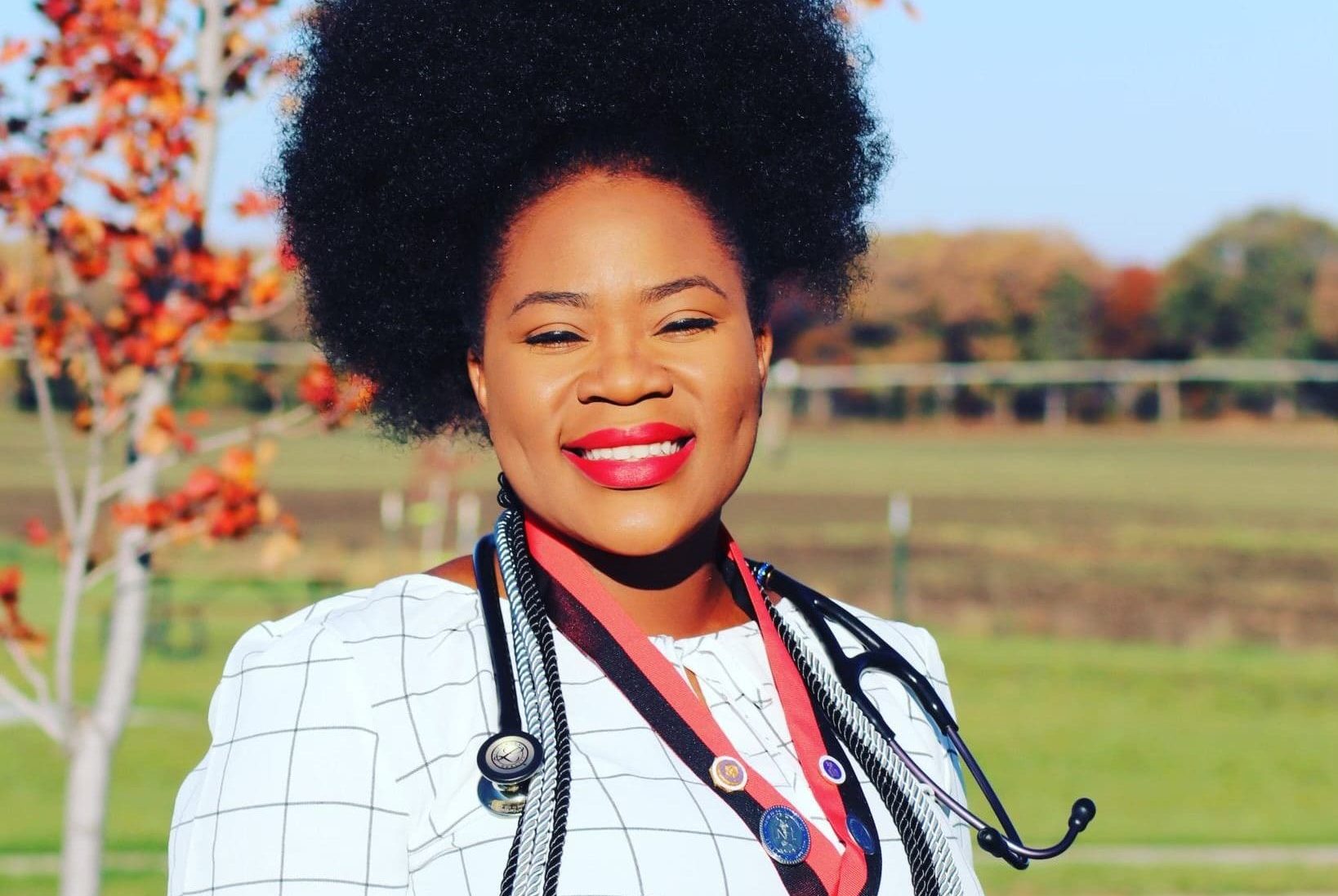 Blessing's Story: "I believe in the power of nursing."
When Blessing Osibodu was born four months early, a nurse took care of her as if she were her own – giving Blessing the special attention she needed to survive.
Baby Blessing made it home from the hospital, not only surviving, but well on her way to thriving.
It wasn't until much later, however, that Blessing – who moved to the United States from Nigeria at age 8 – fully understood the lasting effects of that nurse's care.
"I was inspired to change my career," Blessing said, explaining that as an adult, she visited Nigeria and reunited with that nurse, named Kehinde. "It was a very emotional meeting."
Blessing had already earned her bachelor's degree in criminal justice and was working in law enforcement. After meeting Kehinde she returned to school to become a registered nurse. Along the way, she heard about the International Institute of Minnesota's Medical Career Advancement (MCA) program.
"The MCA program matters because as immigrants, as New Americans, knowing that there's an organization in Minnesota that cares about your livelihood and success is very powerful and very empowering," Blessing said.
"I really believe the MCA programis forming medical leaders for the future."
Medical Career Advancement provided scholarship support, mentoring, resume help and employment navigation for Blessing to find a job.
"MCA has played a major part in my career in many ways," Blessing said, adding specific thanks to Brooke Anttila, the Institute's program manager for Medical Career Advancement. "In the beginning, when I was in nursing school, MCA was a big motivator to work hard. Brooke constantly checked in. The support was beyond funding. This was interest in my education and me advancing in the medical field. It was about motivating me."
She began her nursing career in oncology, now works in a local emergency room and plans to become a family nurse practitioner. Blessing continues her connection with Medical Career Advancement while she finishes her doctoral degree.
She also serves on the Institute's Board of Directors and strives to give back to her community. Blessing speaks on panels to motivate and inspire other nursing students and has volunteered as a NCLEX tutor. As a Board member, Blessing brings her valuable perspective as a program participant. She's part of a team that oversees legal governance, financial policies and the Institute's executive director.
Speaking against prejudice and racism in the medical field remains another priority for Blessing.
"If a minority goes to the hospital and they see someone who looks like them and talks like them, it makes them a little more comfortable to say what's really going on," Blessing said.
"There's a big gap in the immigrant community" when it comes to feeling comfortable navigating the healthcare system, she said. "A lot of us aren't taught about healthcare, how the emergency room can't turn you away, how if you can't pay, they have assistance, or about regular primary care.
"I like knowing that I'm making a difference," Blessing said. "I believe in the power of nursing. Not just in the matter of dressing a wound, but also in educating further. A little bit of education can change someone."
---
Reported and written by Alisa Blackwood, Communications Manager at the International Institute of Minnesota. Alisa's work at the Institute comes after years of writing for publications and organizations such as The Associated Press, O, The Oprah Magazine, TravelandLeisure.com, Health and more. The throughline of her work is sharing human stories that connect us all.