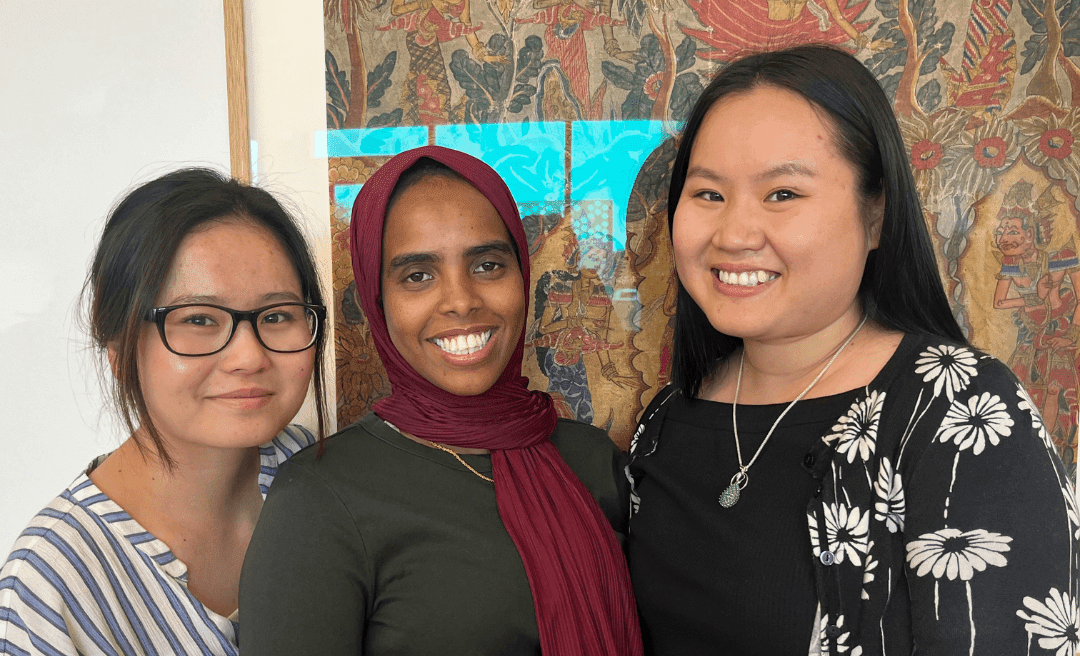 The Journey to Citizenship
June 22, 2023 | At the International Institute of Minnesota, our Immigration and Citizenship Services team provides expert guidance and services to all Minnesotans seeking to naturalize and become U.S. citizens. We assist our clients in navigating the complex processes, language barriers, and financial obstacles that often hinder their path to citizenship.
As an organization, we strive to empower refugees and immigrants by providing critical resources and assistance. Our very own staff members share their remarkable pathway, from arriving as refugees to becoming American citizens. Their stories represent a collective triumph of adversity and resilience in the face of challenges. Through their journeys, they have found safety, hope, and a new sense of belonging to Minnesota.
Eh Pho Say | Legal Assistant and Immigration Intake Specialist
"I was born and spent the first 12 years of my life in Umpiem Refugee Camp in Thailand. My family and I moved to Minnesota in 2008 and lived here for 7 years before we became US citizens in 2015. I was 19 years old when I became a U.S. citizen. Now that we have become citizens, my family and I can freely travel around the world without worrying about being able to come back to the U.S. We also have a voice in political matters and can vote, which is something we never had before.
Through my journey to citizenship, I feel as though I can relate to and understand the exact feelings that our clients go through as they transition their lives as New Americans."
Zamzam Hussein | Preferred Communities APA Case Manager
"I came to the United States as a refugee in 2014. I am from Somalia, but we lived in South Africa for six years before we moved to the U.S. When we first moved here, we were resettled in Atlanta. However, my mother decided to move to Minnesota shortly afterward. She believed that Minnesota would be a better place for us to live and give us access to more opportunities.
During university, I chose to intern at the Institute in the Immigration Services program. On my first day here, I realized that this was the place that helped my family and me apply for citizenship back in 2019! And now, I work at the Institute in the Refugee Services program, helping newly arrived refugees resettle in Minnesota.
The Institute helped my mother with her application and prepare for the interview. She didn't write or read English and the process was tough. It was so helpful having Immigration Services explain everything to her in a way that she could understand, help her study for the civics test, and share resources with my family. I am so grateful that there is a place like the Institute to help people who don't speak English as a first language become U.S. citizens.
Rose Marry | Front Desk Receptionist
"I am from Myanmar and I moved to the United States in 2008. I came here with my mom and sister. We left Myanmar because of the ongoing war and because my mother wanted better opportunities for us. She wanted us to go to school, live in a safe place, and find good jobs. In Myanmar, we were poor and didn't have the things we needed. We came to the U.S. in search of a better life. In 2016, when I was 19 years old, I became a U.S. citizen.
I was so happy when I passed the citizenship test and knew that I would become a citizen. I'm happy I became a citizen. Becoming a U.S. citizen gave me and my family security. There is still a war in Myanmar, and it's hard to find jobs and make money, but in Minnesota, I could go to school and now have an excellent job at the Institute. I know that we are safe living here."
---
Since 2001, the International Institute of Minnesota has filed more than 17,000 citizenship applications, giving our clients the legal rights, protections, and permanency of a future.
We are able to provide our services with the help of donors like you.
Between now and July 4, your donation will be matched up to $45,000 to our New Americans Campaign, dollar for dollar. With your support, the Institute can continue providing invaluable resources, guidance, and legal assistance to Minnesotans through the steps to becoming a citizen of the United States of America.
---
Since 1919, the International Institute of Minnesota has delivered critical services and resources to help New Americans transition to their new lives in Minnesota. From language learning and job training to immigration and refugee services, the Institute offers New Americans a pathway for a strong start to a new life. Once stability is achieved, we're there for the next steps, too: from college preparation and career advancement to citizenship support and financial coaching toward home ownership.