Annoucement
Welcome, Board Members!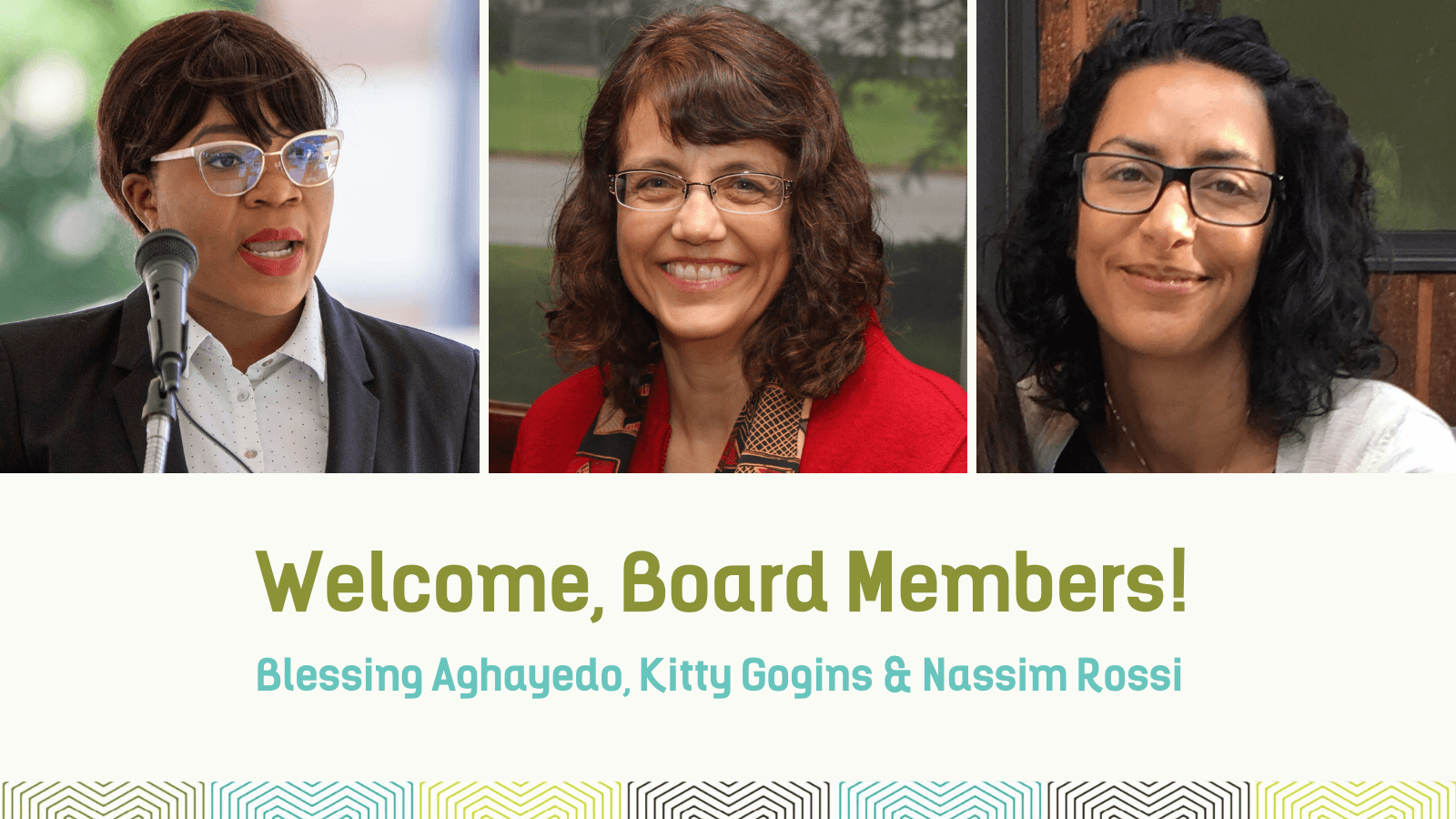 October 12, 2021 | Please join the International Institute of Minnesota in welcoming Blessing Aghayedo and Nassim Rossi to the Board of Directors, and in welcoming Kitty Gogins back to the Board!
Blessing, Kitty and Nassim each bring valued strengths, expertise and perspective to the Board. Together, Board members provide strategic leadership, governance and financial oversight, supervise the Executive Director and serve as ambassadors for the Institute's mission. Meet Blessing, Kitty and Nassim below:
BLESSING AGHAYEDO
Blessing Aghayedo, R.N. is a Registered Nurse and is currently enrolled as a graduate student in the Doctor of Nursing Practice program at Winona State University. Blessing came to the U.S. and Minnesota from Nigeria in 2000. While working toward her two-year nursing degree, Blessing joined the Institute's Medical Career Advancement program. Now, as a nurse, she assists immigrant nursing students as a volunteer tutor with the Institute.
Reflecting on her decision to join the Board of Directors, Blessing recalled a quote by J.K. Rowling: "We do not need magic to change the world, we carry all the power we need inside ourselves already; we have the power to imagine better."
KITTY GOGINS
Kitty Gogins is the daughter of refugees. She has had a strong connection to the International Institute of Minnesota ever since she was a child and her mother, Olga Zoltai, worked at the Institute.
Kitty has a decade of experience as a business consultant specializing in strategic and project leadership for non-profits and education entities. Prior to consulting, she held leadership positions at Pillsbury, General Mills, CHS and the Ramsey County Workforce Investment Board. From 2011 to 2019, Kitty served as Board chair at the Institute. She has also served on the Roseville Area School board for sixteen years (five as chair). She served four years as the board chair of a multi-school district collaborative called Equity Alliance MN, which has the mission to be a leading force and learning center for educational equity and integration.
"It is an honor to once again serve on the Institute Board," said Kitty. "The depth, breadth and innovative services the Institute offers refugees and immigrants makes a huge difference in so many lives."
NASSIM ROSSI
Nassim Rossi owns and manages worD.AroMa, a small wellness business. She has a Ph.D. in Art History with a specialization in Italian Renaissance painting and Islamic Art and Architecture and taught at Macalester College in St. Paul. She eventually transitioned into a role directing the Family Service Fair program at local non-profit Doing Good Together, before becoming involved in civic education – first as the volunteer coordinator for a state representative's election campaign and then as the creator and director of a Capitol internship program aimed at engaging youth in government.
Nassim has served on the board of directors of organizations whose mission resonates with her values and passions, including the Italian Cultural Center, the Edina chapter of the League of Women Voters and Edina Give & Go. She has volunteered for many years with the International Institute of Minnesota's Refugee Services program.
"As an Institute volunteer, I was impressed by the devotion and dedication of the people with whom I interacted in the very challenging work of refugee resettlement," Nassim reflected. "I'm so honored for the opportunity to join the Institute's Board and can't wait to devote my time and energy to advance the organization's wonderful work supporting New Americans in Minnesota."
THANK YOU, MARK KALLA AND KATE TILNEY
At the same time that Blessing, Kitty and Nassim are joining the Institute's Board of Directors, two members are concluding their Board terms. The Institute extends deep thanks to Mark Kalla and Kate Tilney for their years of Board service and is grateful for their continued involvement.
Nassim, Kitty and Blessing join 11 other Directors to complete the 14-member Board of Directors. View the full 2021-2022 Board of Directors roster here.