Providing a Strong Start to a New Life
Since 1974, the International Institute of Minnesota has resettled over 25,000 refugees. Thanks to generous support from donors and help from volunteers, our competent staff members guide clients through their first steps in the United States.
We understand that navigating a new country's systems can be overwhelming and challenging. That's why we offer a range of services for the people we resettle, from employment and housing support, to English classes and so much in between.
Frequently Asked Questions
Our national office collaborates with the U.S. Department of State to assign refugees for resettlement services through the International Institute of Minnesota. This happens after the United States government has thoroughly vetted and approved each applicant for resettlement. We are only able to provide resettlement services to clients assigned to us.
The process of resettlement takes at least two years once the UN Refugee Agency (UNHCR) identifies refugees from around the world for resettlement. Most refugees, however, have waited many years and sometimes decades before this step. Once a refugee is recommended to the U.S. for resettlement, the U.S. government conducts a thorough vetting of each applicant. This process takes between 12 and 24 months and includes background checks, security clearance screenings, interviews and medical screenings.
As refugees await their flight to Minnesota, the team at the International Institute of Minnesota gets to work with our community partners, volunteers and generous donors. These partnerships and their generous donations make it possible for us to find and furnish housing as well as fill refrigerators with culturally appropriate welcome groceries.
Make an Impact
With your support, we can provide New Americans with a strong start to a new life. Your generosity is essential to the success of our community — thank you.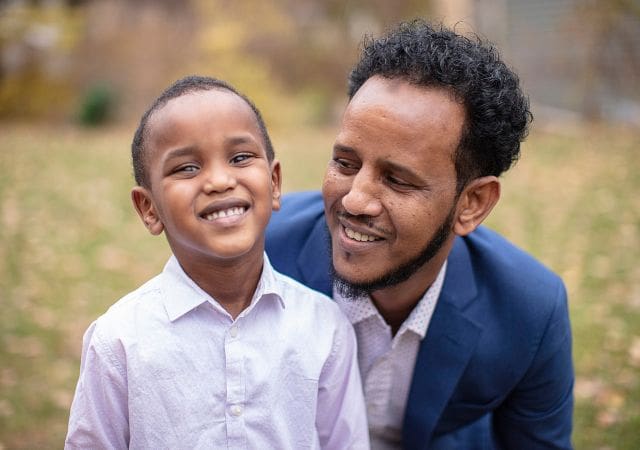 Classes and Job Trainings
Sign up for a class or job training, learn about your new community, advance your career and more.
English Classes

Learn how to read, write and speak in English. Our free classes for New American adults teach all levels: beginning, intermediate or advanced.

Learn More

Nursing Assistant Training

Become a Certified Nursing Assistant with our quality free CNA training and employment support.

Learn More

All Classes and Job Trainings

Learn about our many free classes and job trainings that support your journey as a New American.

Learn More
What Our Clients Are Saying
Use Next and Previous buttons to navigate, or jump to a slide using the slide dots.
1
We have found a peace that we didn't have for more than 20 years. We have found people that we can call friends, neighbors, and especially we have people that care about us and are helping us to settle in this country, which is not an easy thing.

Pascal

Resettled refugee

Read Full Story
Contact Us
Please email or call us with any questions you have about the refugee resettlement services we offer. Please note that we are only able to provide resettlement services to clients assigned to us by the U.S. Department of State.
Aziza Mama
Senior Manager
(651) 377-8607