Although our building is closed due to COVID-19 restrictions, we are taking online immigration appointments and clients should call our office phone number to be screened: 651-647-0191, ext. 300
---
Each year the Institute assists over 2,000 refugees, asylees, and immigrants with citizenship, lawful permanent residency, replacement of documents, and other immigration-related issues. The Institute is authorized by the Office of Legal Access Programs to provide immigration services. Please visit the Department of Justice's website for more information.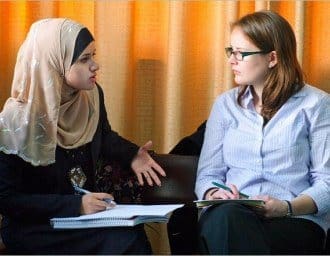 Clients need to make an appointment for assistance. Clients may be referred to a low-cost immigration attorney for further legal consultation. To make an appointment, call 651-647-0191 x 300. The Institute charges a nominal fee to assist with the following:
Citizenship through Naturalization (N-400)
Citizenship through Parent (N-600)
Lawful Permanent Residency (I-485) for Refugees and Asylees
Travel Document/Re-entry Permits (I-131)
Replacement of Green Card (I-90)
Petition to Remove Conditions on Green Card (I-751)
Employment Authorization (I-765)
Replacement of Certificate of Citizenship/Naturalization (N-565)
(DACA) Deferred Action for Childhood Arrivals (I-821D)
Refugee/Asylee Family Petitions (I-730)
Replacement of I-94 (I-102)
Diversity Visa Lottery: Please visit the State Department website for more information.