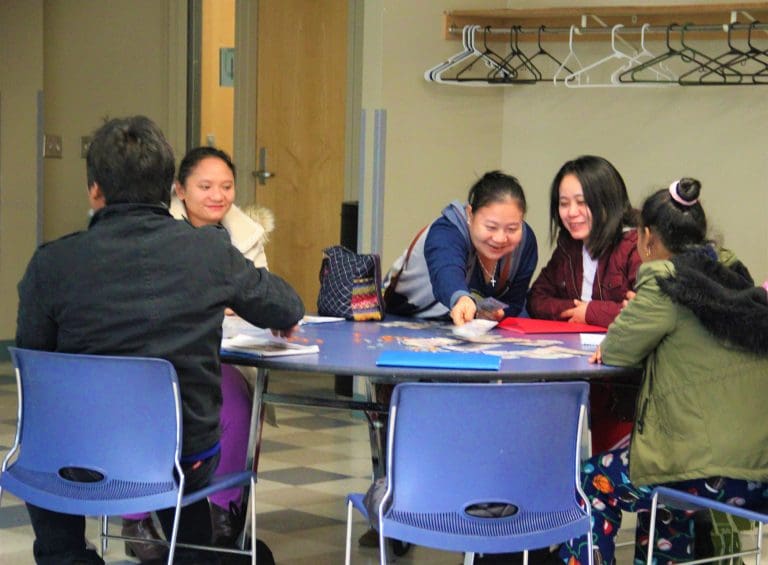 Community Orientation Workshops, a partnership between the International Institute of Minnesota and Minnesota Council of Churches, provide English and life skills education across a variety of topics.  Individual workshops occur once weekly, covering themes including transportation and community resources, job readiness, financial literacy and  health literacy.  Classes are designed to assist adults in their transition to life in the U.S. while building literacy skills in the areas of reading, writing, listening and speaking English.
Note: During the COVID-19 crisis, all workshops are being held over-the-phone and online.
Blog Article: New Americans Find Their Bearings With Community Orientation Workshops
---
Student Eligibility
**Currently, all people are eligible for COW classes.**
Starting September, qualifying students are all adults with humanitarian protection immigrant status who have been living in the United States for five years or less. This includes individuals with refugee, asylee, certified victim of human trafficking, special immigrant visa, Amerasian or Cuban/Haitian entrant status.
Questions?
Join an information session to learn more. Information sessions are every Tuesday over Zoom. You can join via video or phone.
Visit the link below and enter the Zoom code at the correct time to meet with the teacher.
Tuesdays
Teacher: Quyen
1 – 2 p.m.
https://zoom.us/join 
Zoom Code: 810 3734 4478
or for phone access: Dial in at 1-312-626-6799 Tuesdays 1 – 2 p.m.
Class Structure
Workshops are grouped in eight-week sessions. Students are welcome to begin classes at any point throughout the eight weeks and may remain in class as long as desired; however, workshops repeat after completion of eight weeks. During each session, there is a Level 1 class and a Level 2 class available; students can choose which class they would like to attend.
Week 1: Transportation
Week 2: Housing
Week 3: Community resources & navigation
Week 4: Financial literacy
Week 5: Health literacy
Week 6: Education and family adjustment
Week 7: Job readiness
Week 8: Community bridges & progress toward citizenship
⇒ Register for Community Orientation Workshops
For more details on class content or if you are interested in volunteering, contact Quyen Dang.