The Institute welcomes refugees to the Twin Cities and assists in the transition process to their new community. In 2016, the Institute resettled 578 refugees from twelve countries of origin: Afghanistan, Bhutan, Burma, Democratic Republic of Congo, El Salvador, Eritrea, Ethiopia, Iran, Iraq, Russia, Somalia, and Tanzania.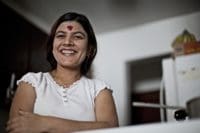 The majority of refugees fled from Burma and Somalia. Refugees escape war and persecution in their home countries only to spend an average of 17 years in refugee camps before resettling in a new country.
Starting over in a new community is a challenge.  Starting over in a new country is often overwhelming. The challenges of learning a new language and entering a new culture, not to mention adjusting to Minnesota's winter, are immense. Many refugees have fled from warm climates in Africa and Asia, so they are not prepared for Minnesota winters. Refugees arriving in the U.S. receive a one-time grant of $925 and 90-days of case management. Refugees are responsible for paying back the cost of their plane ticket to the U.S., which is purchased at market rate.
Refugee resettlement staff provide an array of services including:
Greeting newly arriving refugees at the Minneapolis/Saint Paul airport

Finding and furnishing housing prior to refugee arrivals

Enrolling refugee children in school

Connecting adults with ESL classes and employment counseling services

Applying for social security cards, selective service, and public benefits

Shopping for groceries and household items

Accessing medical care

Assisting with the use of public transportation

Providing a warm and welcoming atmosphere for our new community members
All refugees resettled by the Institute:
are authorized to work in the United States

have received security clearance by the FBI and State Department

are medically screened by healthcare professionals before arriving in the United States and again upon arrival