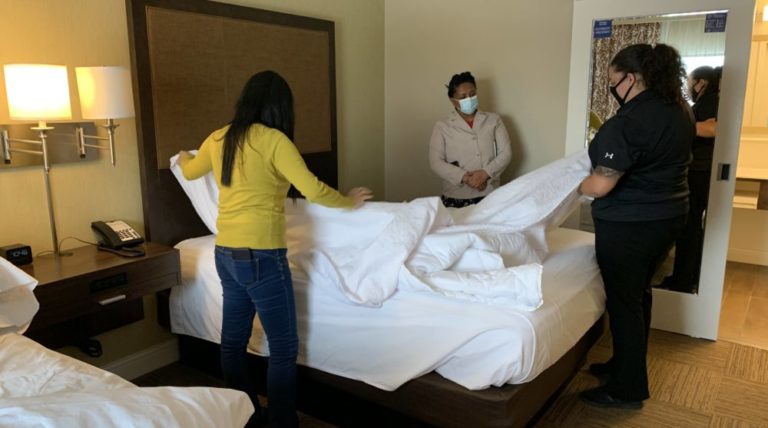 "Before training, simply I clean everything," Hirut, an Institute student, remarks. "After training, I clean perfectly." Hirut arrived in the U.S. a year ago from Ethiopia and chose the International Institute of Minnesota's Housekeeping Training Program as her first formal course in her new home.
This Institute class, which is part of the Hospitality Careers Pathway, is particularly beneficial for those who are newly arrived in the U.S. and need time to develop their English skills as they enter the workforce. The fall 2020 session of this course was the first the Institute has held fully at a hotel and the first in-person class since the pandemic struck. 
"For me, everything was good," Hirut said of her class. "Especially the theory and the practice; I like practice." Hands-on experience is something that has been hard to come by during COVID-19, so the opportunity to offer this training in a safe, physical space was a welcome change for students and staff. Hirut also spoke of her interest in learning about infection control measures, which are especially important during a pandemic. As for the course's challenges, "The hardest was the duvet! You know the duvet?" Hirut asks. "It is difficult. But after two, three days of practice, it is good." Willyn, Hirut's classmate and new friend, concurred, "My arms ached!"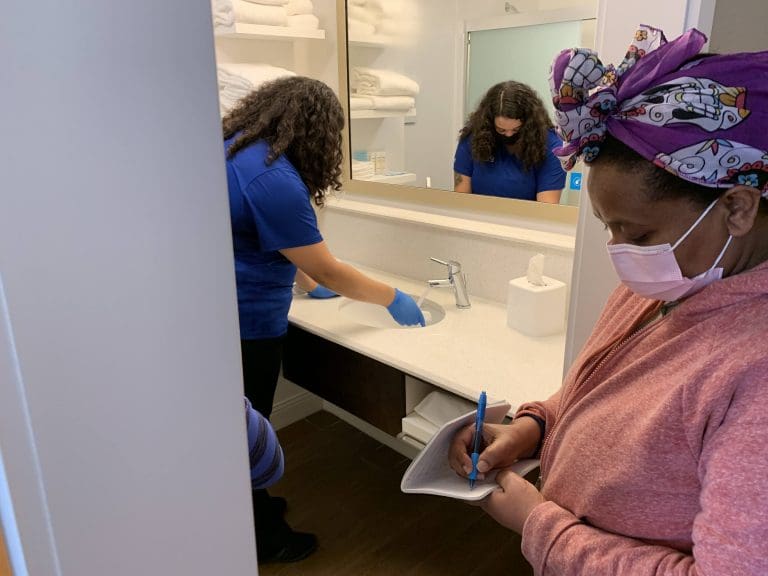 Willyn, originally from the Philippines, participated in more than 400 hours of classes between February and October, including dietary aide training, driver's education, English classes and housekeeping. "I'm willing to learn," she says. "I'm willing to know everything about the U.S." 
Willyn says she participates in multiple programs because she wants to have several employment options, to meet other people and to practice conversing in English with someone other than her husband. Willyn shared that she feared speaking to strangers and being judged or underestimated because of her English skills. But things are changing.
"When I stay home, I don't feel good. It's better here," Willyn shares. "I can talk, I can smile. It's helped me." She says her favorite part of the housekeeping class turned out to be vocabulary. Willyn was also a fan of having "exams every week so that I know for myself that I learned something in class." Reflecting on how things have changed since she took the course, she says, "I proved to myself that I have the ability to do things and face problems."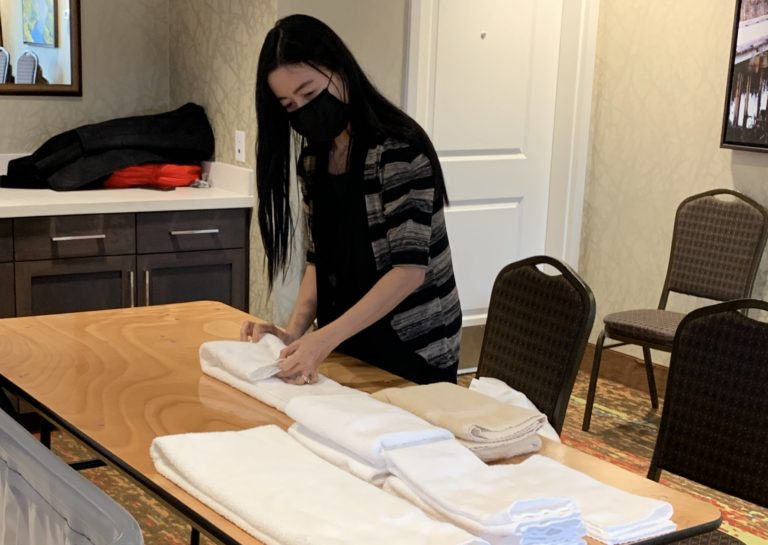 Willyn's fellow graduate Hirut is now applying and interviewing for housekeeping jobs with the guidance of Institute staff. "After the training finished, I have confidence for interviews, for anything," Hirut says. In the meantime, she is continuing to practice her English and is looking forward to adding another certificate, diploma or degree to her resume in the future. Reflecting on her first year in Minnesota, she remembers how she struggled to interact with others; now she is proud to see all the gains she has made with her English skills as well as her technology literacy.
As for Willyn, she says, "I want to find a good job so that I can save money and help my husband with our needs at home, and so I can also help my mom." After her father died, Willyn's mom raised eight children on her own.
"I want my mom to feel confident, I want her to buy food, to buy anything she wants, in return for the hardships she encountered," Willyn adds. "That's my dream in life. Also to help my brothers and sisters and their families to have a good life."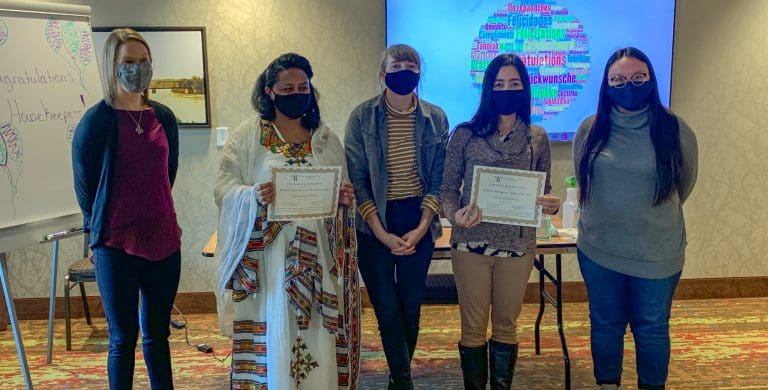 Special thanks to Hampton Inn (Roseville) of TPI Hospitality for partnering with the Institute to offer these impactful student experiences!
Learn more about the Institute's Housekeeping Training Program and other programs in our Hospitality Careers Pathway.