Client Story
Young Afghan Mother Prepares for First Job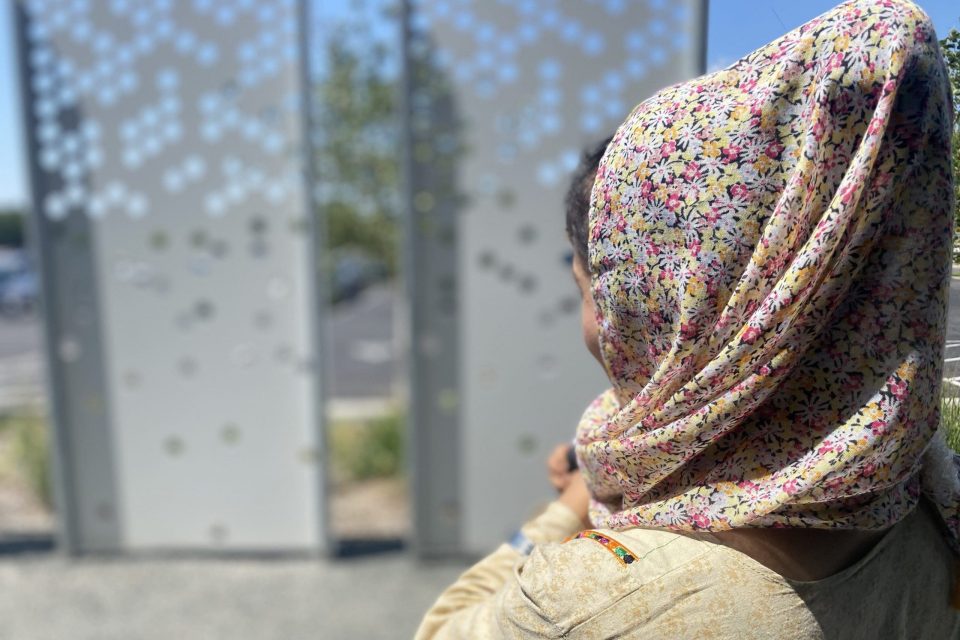 August 14, 2023 | Aisha arrives every day at the International Institute of Minnesota's Housekeeping Training, enthusiastic and ready to learn. In class, she practices her English, meets other New Americans, and learns skills that will help her find work.
As Aisha and her husband Ali, both Afghan humanitarian parolees, approach memories of the two-year mark of the Taliban takeover in Afghanistan, they're also rebuilding their lives here in Minnesota. For Aisha, that means working toward her first-ever job.
"It's good. We're learning," Aisha said, speaking shyly as Ali interpreted.
A NEW BEGINNING IN MINNESOTA
Before evacuating Afghanistan in 2021, Aisha and Ali lived in Kabul as newlyweds, looking forward to the birth of their first child. Ali worked at the U.S. embassy and went to school for business administration. When the U.S. military left the country, it quickly became a dangerous place to stay, especially since Ali had worked for the U.S. government.
They fled Afghanistan, landing temporarily at a military base in New Jersey, where their daughter Zahra was born a few weeks later.
They soon relocated to Minnesota, where they found safety and a chance to start again.
The urgency of Afghanistan's evacuation captured attention around the world, compelling an outpouring of support both globally and right here in Minnesota. The Institute resettled 296 refugees in just 10 months, compared to 93 the year before.
Though many families have since found safety and Afghanistan is in the news less often, the critical work of establishing stability and self-sufficiency remains. Two years later, the Institute continues this work in a variety of ways, including legal representation, English classes, and job training. Here, new arrivals find community and help navigating new systems.
The women-only Housekeeping Training that Aisha attends launched this summer, as a way to welcome mothers like her who could bring their young children to class. While Ali works at Target, Aisha arrives for class five mornings a week with Zahra's small hand in hers.
"Aisha is a voracious learner. She is always attentive and doesn't want to miss a single thing that I am saying," said Lynn Thompson, instructor and program manager of the Institute's Hospitality Careers Pathway. "Aisha will make an excellent housekeeper. She is very detail-oriented and constantly wants to learn more. I am confident she will continue to advance her English and job skills."
A SUPPORTIVE COMMUNITY
Facing the challenges of adapting to a new country, Aisha and Ali remain determined to achieve self-sufficiency. That's one reason Aisha hopes to find work, with the support of employment specialists and job training.
Without family in Minnesota, Aisha also says she hopes working will relieve some loneliness when their daughter starts childcare.
The Institute's ability to be responsive and offer classes such as the women-only Housekeeping Training, along with Afghan Women's Circles, is thanks to our community of generous supporters.
"It's really a great help for us," Ali said. "People are trying their best to help people whenever they can. We really appreciate that help that they're doing with us and the other refugees."
---
Reported and written by Alisa Blackwood, Communications Manager at the International Institute of Minnesota. Alisa's work at the Institute comes after years of writing for publications and organizations such as The Associated Press, O, The Oprah Magazine, TravelandLeisure.com, Health and more. She hopes her writing about Institute clients, students and staff bring to life the stories behind the news headlines.