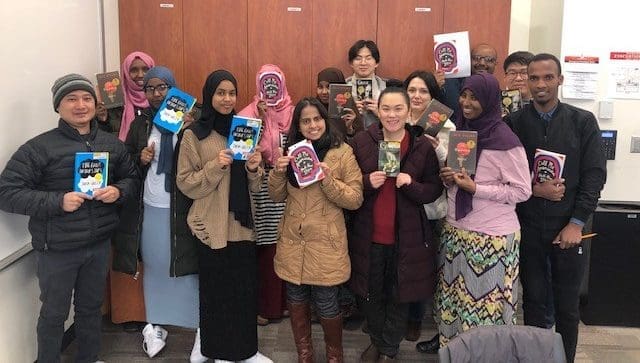 Our College Readiness Academy (CRA) is a free program that provides college preparation to New Americans and others who are not yet ready for college and would like additional support navigating higher education.
This program practices the same skills as expensive prep classes run by colleges that cost $1,300 to $3,000. Most students show great improvement on the Accuplacer test and need fewer reading and writing classes. Some students will even be ready to begin college-level (general education) classes. Our college partner is Saint Paul College, and our adult education partner is Hubbs Center.
We have students of many different ages and backgrounds. Some are nursing assistants who want to go to college to advance their medical careers. Some are stay-at-home parents who want higher education. Others were nurses, accountants, lawyers, engineers or teachers in their home countries and want to get retrained in the U.S. Talk to us about your goals!

Fall 2020 Class Schedule
Sept. 8 through Dec. 17, 2020
Morning Class:

Tuesday, Wednesday and Thursday, 10 a.m. to 1 p.m.

Evening Class:

Tuesday, Wednesday and Thursday, 5 to 8 p.m.
Students will need a reliable internet connection and a laptop, tablet or smartphone. Classes will be taught via Zoom with additional online work to be done outside of class.
Registration
Students interested in registering should fill out the interest form below. Intake days will take place over Zoom. Students will meet the instructor, learn more about the class and complete our entrance test.
Morning class intake day options:

Aug. 20 or Aug. 25 at 10 a.m.

Evening class intake day options:

Aug. 11 or Aug. 27 at 5 p.m.
To qualify, an applicant must:
Take reading and writing placement tests
Be able to write a good paragraph
Be able to communicate clearly in conversation
After submitting this form, a staff member will follow up with you in 2-3 business days. Thank you for your interest in CRA!
---
College Readiness Academy Results
40% of CRA students earn a perfect 4.0 GPA in their first semester of college.

The average GPA of a CRA student in college is 3.51.

College navigators have helped CRA students earn $115,436 in scholarships.

By choosing CRA instead of ESL or remedial classes at a college, CRA students have saved $461,580 in tuition since 2015.

Average savings per student is $1,989.57.

Since 2015, 38 CRA students have earned a college degree.

6 of those students earned more than one credential.

14 of those students are currently pursuing their second (or third) credential.

Today, there are 145 CRA students studying in college. 

41 CRA students have graduated with a certificate, diploma, Associate's, Bachelor's, or Master's degree since 2015

6 of those students have completed more than one degree or credential

207 CRA students have enrolled in college since 2015
(National Student Clearinghouse Research Center, 2020)
Learn more in MinneTESOL Journal: College Readiness Academy: Increasing equity by removing barriers to higher education
Class Goals
With the instructor, students will build:
Reading skills — such as critical analysis and vocabulary-building
Writing skills — such as essay-writing and process-writing
Study skills — such as scanning, note-taking, and test-taking
Computer skills — such as word processing and research
With college navigators, students will learn:
How the college system works
How to plan their classes
How to apply for financial aid
How to balance school, work, and home life
For more information, contact Norzin Waleag at nwaleag@iimn.org or 612-460-7289, or Madie Spartz at mspartz@iimn.org or 612-424-9815.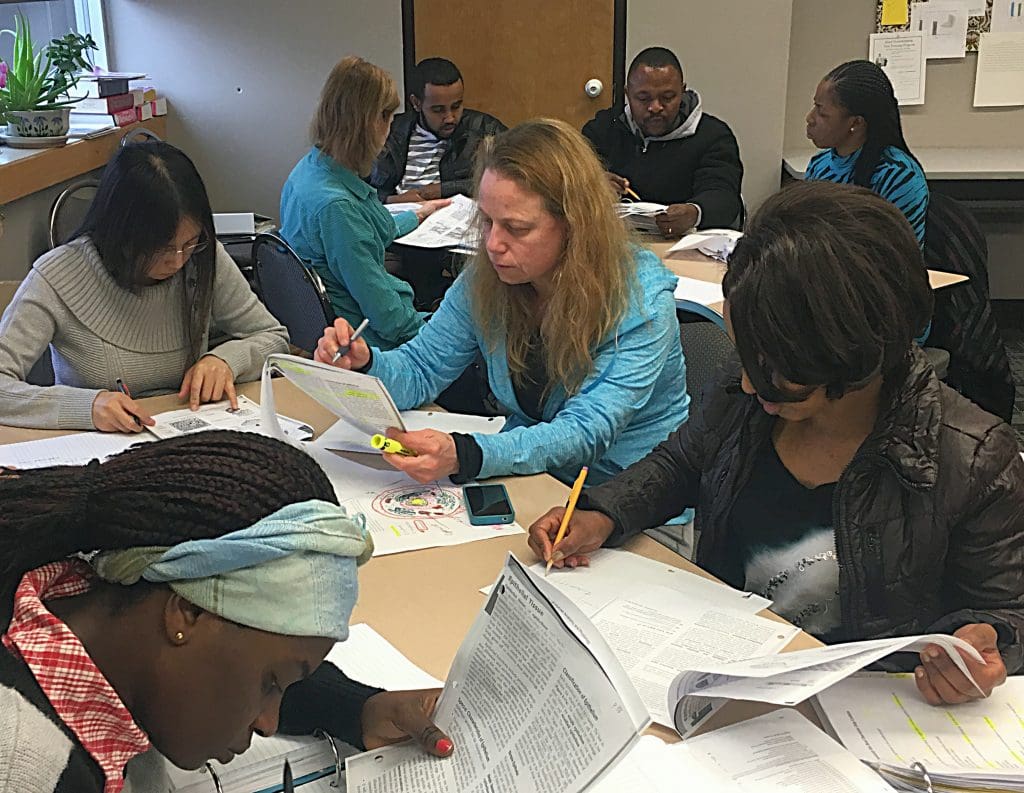 ---
 "For me the problem with college is not the concepts. It's how to better understand what I had to do. Without CRA I think it would have taken me a long, long time."
-Gnande, CRA graduate
 "I learned in classes to express myself and to use my critical thinking skills to solve problems. The navigator is always available to answer questions and helps to put in place the college process."
-Christelle, CRA graduate