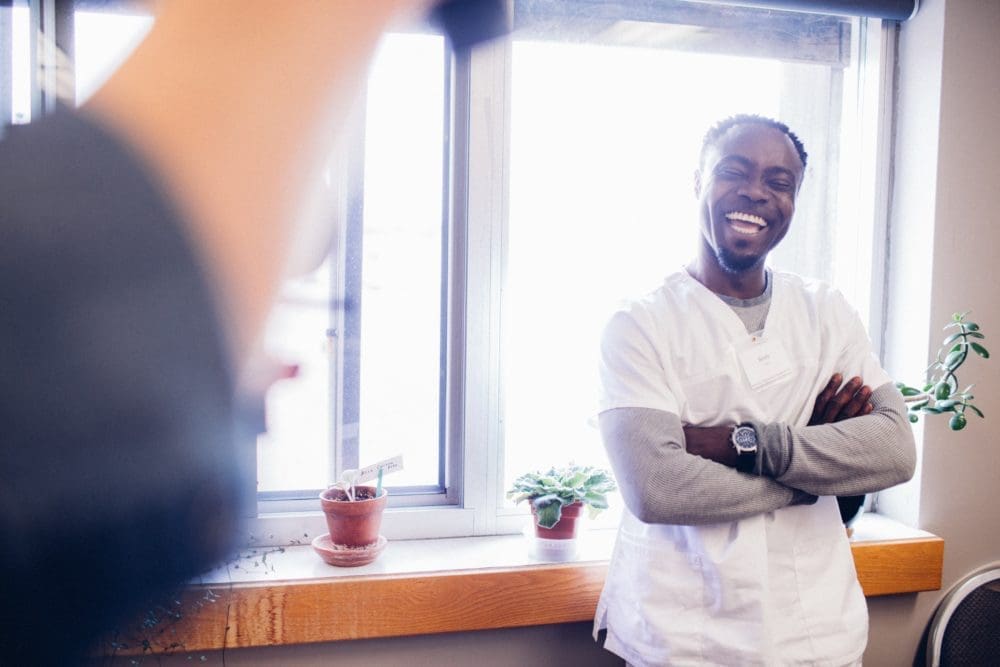 Enroll in high-quality, free certified nursing assistant (CNA) training at the International Institute of Minnesota and get help finding a job after graduation!
The Nursing Assistant Training program at the Institute prepares New Americans to work as certified nursing assistants in nursing homes and other health care facilities. Our dedicated employment specialists assist graduates with the job search process, and our employer partners provide countless job opportunities for our motivated graduates. We are proud to be part of the solution to the caregiver crisis in Minnesota by filling critical labor gaps.

CNA Training 
Next session is July 6th to September 30, 2022.
Registration for April to June session is CLOSED.
Classes will mostly be taught online.  Clinicals will be in person at a facility.
You must have the COVID vaccine, computer and internet to participate in the program.
Four steps to apply
Register for and attend an Information Session in May You will receive a confirmation email.  If you do not receive that please check your spam and maybe re-submit the online form to confirm your email address is entered correctly.
Late May you will be emailed instructions on how to complete the online English Reading assessment.
Staff will inform you if your assessment level is high enough for the program.
Submit the application provided after the reading assessment.
Program Eligibility
To qualify for Nursing Assistant Training, an applicant must:
Have permission to work in the US (refugee, permanent resident, naturalized U.S. citizen or work authorization)
Complete the Reading Assessment with a high intermediate level.
Speak and understand English well enough to succeed in class and communicate with staff and residents in the healthcare facilities where you will work
Be in good physical condition
Have had the COVID vaccine
Have a working computer and internet
Be able to attend in person clinicals.
Program Cost
Nursing Assistant Training is free; there is no tuition.
$100 for the state Nursing Assistant Certification test.
Students are responsible for providing their own uniform and transportation to and from clinicals.
Our Results
97% of graduates pass the Nursing Assistant state certification exam
87% of students are hired after graduation
$16.25/hour is the average wage of our certified students, with opportunity for advancement
Read our nursing assistant student stories
---
Register for Nursing Assistant Training Entrance Assessment
You may submit your information below if you are interested in the July 6 to September 30th, 2022 session, or another upcoming class. Registration is closed for our April to June 2022 training.