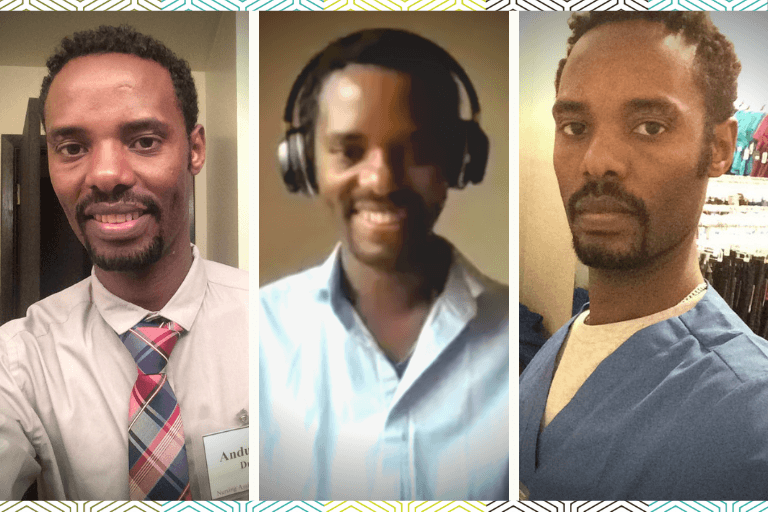 Andualem (Andu) was just a week away from graduating from our nursing assistant training program when businesses across the state began shutting down due to the coronavirus. Despite this setback to getting certified, Andu received news in April that has him grinning ear to ear.
Andu, who is originally from Ethiopia and has been living in Minnesota for a year, took two weeks off work to study more intensively for the Certified Nursing Assistant (CNA) exam near the end of the Institute's training course. "I studied all day and all night." When in-person classes were in session (which last eight to 11 weeks), he biked to and from the International Institute of Minnesota in the dead of winter. Nevertheless, the relentlessly positive Andu says biking helps him to "learn a place better, save money and do exercise." 
Like many of our students who become nursing assistants, Andu states that his main motivation to enroll was that he likes "to help elderly people." In Ethiopia, he shares, many seniors don't have government help; "They may die, nobody is taking care of them … I try to help them; I want to change this." If someone gave him a billion dollars, he vows, he would build a hospital in Ethiopia. 
Reflecting on his changed circumstances in Minnesota, Andu says, "Here, you take breakfast, lunch, dinner, snacks — over there only one meal a day; here you can shower every day, there, maybe one or two showers a week. There's no work or services."
Speaking about his health care skills and job prospects, Andu says, "If I take care of one senior, there will be someone behind me about to help, too. If you help one person survive, you are happy." 
His spirit of service will be put to good use during the COVID-19 pandemic. Despite still needing to acquire his credentials for CNA positions, Andu was recently hired to work in an assisted living facility in St. Paul. His job will be three-fold as he performs caregiving, housekeeping and dietary aide functions.
Formerly working in a stocking role, Andu is thrilled not only to be putting his newly developed skills to use but also to leave behind his nearly two-hour commute by bike and bus.
Faith Loggers-Jamnik, our Lead Employment Counselor in the Nursing Assistant Training program, had been working closely with Andu to find a position in the health care field. "Faith helped me with everything!" Andu exclaims.
When Andu heard about the job offer, "I swear he was almost dancing in the street," Loggers-Jamnik recalls. "I wish I could have captured those first moments!"
A familiar face at the Institute, Andu has also participated in our English classes and Hospitality Supervisor Training program. Andu insists on thanking the "best teachers" and his support system at the Institute — "Emily L., Hannah, Lynn, Scarlett, Midge, Julie, Faith, Ali, Heidi, Star, Sara, Ms. King, Karen, Jenny…"
Andu reiterates that education is his priority. "I don't care about money; I could get money tomorrow," he reasons. "If I go to school today, I change my life. I change other people's lives."
In Ethiopia, he studied surveying technology and worked in construction. "My interest is up, but I have to start from down," Andu explains. "I started from down level as an assistant." He worked five days a week and attended college courses on the weekends. "For three years I did this; I work, I study, I work, I study." Andu progressed from assistant, to levelman, to junior surveyor, to surveyor and finally to senior surveyor.
As evidenced by his ongoing pursuits in Minnesota, Andu is not finished achieving new heights. After completing his nursing assistant certification, he plans to enroll in our College Readiness Academy and pursue a Licensed Practical Nurse (LPN) degree.
"My hope is to continue with my education and then save some money and help some people — send money to elders back home; they don't have health, they need food, they need clothes."
He's also concerned about his neighbors in Minnesota. "There are many people who don't have work experience or documents; they don't have money, they don't have food — how is the government going to help them? These people need help."
People tell him he is lucky, but Andu asserts, "God is helping me. This is your position, and you have to go forward."
---
Learn more about the Institute's Nursing Assistant Training Program.